Are you someone who only buys the most perfect-looking, flawless fruit and vegetables in the supermarket? Well you'd better watch out, because Anthony Bourdain has something to say to you — and, as usual, he's pulling no punches.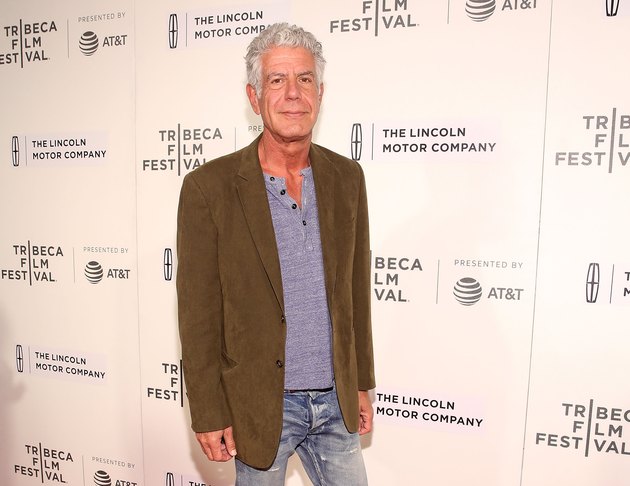 The infamously blunt chef is appalled at the amount of food unnecessarily wasted because people refuse to buy imperfect produce, and he fully intends to shame the general public into changing its ways.
"Do not underestimate the value of shame," Bourdain said during an onstage interview with the New York Times's series of Time Talks. "Go to any major chain supermarket and think about that tower of perfectly stacked, impeccable oranges or tomatoes, and understand that the supermarket by design has already figured and costed-out the fact — the immutable fact — that they will throw 30 percent in the garbage just so it will look cool. This is horrifying."
So Bourdain has a solution that totally makes sense: He's going to make slightly imperfect produce totally cool in the foodie world. (Check out our video: We are way ahead of you, Tony!)
"The fact is, if enough chefs make ugly tomatoes cool, everybody's going to want cool tomatoes. Ugly tomatoes. That's going to be the big thing," Bourdain said. "Everybody's going to go to Whole Foods and say, 'These tomatoes aren't bruised enough. They're all symmetrical.'"
Bourdain, whose food-waste crisis film "Wasted! The Story of Food Waste" premiered at the Tribeca Film Festival in the spring (and is opening in select theaters on October 13), is specifically targeting "inefficient home cooks, people who rely solely on restaurant food, those who don't compost and grocery stores."
According to recent research, half of all produce in the United States is thrown away, and like Bourdain explained, the reason is due to "unrealistic and unyielding cosmetic standards." Previous estimates equate the financial loss of all food wasted at $165 billion each year. Where does all the excess food end up? Landfills mostly, where, according to the Environmental Protection Agency, it contributes to the 18 percent of total U.S. methane emissions that come from landfills.
While there are many levels to the food-waste pyramid, social media's "foodie influencers" could play a part in this desire for perfect-looking fruits and veggies. After all, the public's recent obsession with pink pineapples and kiwi berries largely had to do with the fact they look so darn cool on Instagram and Pinterest. While it's common to post "pretty" food photos, you don't see a lot lopsided mangoes, bruised bananas or weirdly shaped carrots getting much love.
Bourdain also has a very specific message for critics of his new crusade — and of course it starts with an expletive.
"F**k that," he said when asked if chefs should "stay in their lane" and avoid politics altogether. "Is there anything on this planet more political than food? No, there is not. Who eats? Who doesn't eat? Who is cooking? Who is eating? Why are we eating a lot of the things we eat?"
<p class="article-related-links">Want more healthy living info? Check out these LIVESTRONG articles: <br>
<a href="https://www.livestrong.com/slideshow/1013090-7-healthy-ways-deal-breakup/">The 7 Healthiest Ways to Deal With a Breakup</a>
</p>
<p class="article-related-links"> 
<a href="https://www.livestrong.com/slideshow/1013085-19-travel-destinations-adventure-junkies/">The 19 Best Travel Destinations for Adventure Junkies</a>
</p>
<p class="article-related-links">
<a href="https://www.livestrong.com/slideshow/1013077-handle-mean-girl-office/
">How to Handle the Mean Girl at the Office</a>
</p>
What Do YOU Think?
Do you expect your fruits and vegetables to look perfect? Does the amount of wasted produce surprise you? Would you be OK with eating "ugly" produce?