It's already the middle of January, which means about a third of those who made New Year's resolutions are feeling like utter, total failures for already giving up on their goals (although here's why you shouldn't be). Hugh Jackman may be one of those statistics, but he's not exactly crying over it.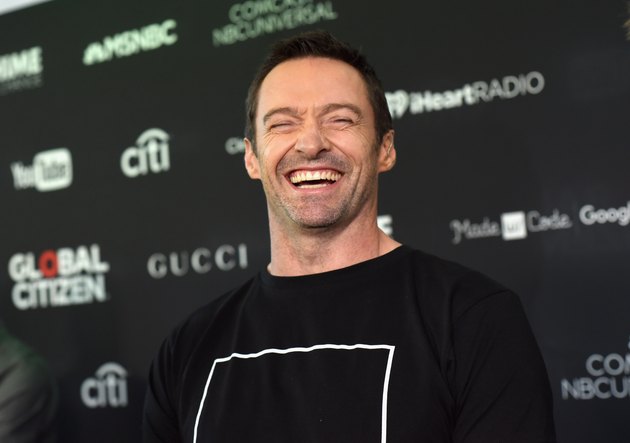 The "Wolverine" star kicked off 2018 with healthy dietary goals, flaunting his detox diet on social media. But it didn't take very long for him to relapse hard. Luckily for us, he has a wonderful sense of humor about the whole thing.
Jackman kicked off the month at Speedos Cafe in Sydney, where he gulped down a "green machine" smoothie filled with spinach, kale, cucumber, celery, apple juice, goji berries and chia seeds. Later in the day he devoured some salt-and-pepper squid, which if served raw is low in fat and calories and high in protein. Doing well, right?
But Jackman's version of a detox diet was severely derailed after just four days, when the star decided to indulge in a delicious-looking truffle pizza. "So, that lasted all of 4 days! #detoxfail" he wrote on Instagram, along with a drool-worthy photo of his pie. I mean, who could resist that cheesy, gooey masterpiece, right?
The Golden Globes — where the star was nominated for Best Actor for his performance in "The Greatest Showman" — was a little more than a week later. Unfortunately, he lost to James Franco, which may have provoked him to find comfort in foot the next day.
"Morning after …. the Globes. #DetoxFail," he wrote alongside a photo of himself scarfing down an unidentifiable food item packaged in a plastic container. He didn't stop there. Later in the week he enjoyed a martini, because why not? It clearly made him very happy, judging from the laugh-snorting video clip he shared.
By this Monday it was clear his detox was so 2017, as the actor had landed in France and wasn't going to deny himself that country's legendary cuisine. "Bonjour, Paris!" he captioned a snap of himself holding a pizza, along with the hashtag "#WhatDetox?"
While Jackman may not be successfully nailing his cleanse, it's likely he is engaging in another very healthy daily practice. In 2017 he revealed the secret to his more than 21-year marriage to wife Deborra-Lee Furness was dyadic meditation, which has been scientifically proven to help people feel closer and also more open with others.
<p class="article-related-links">Want more healthy living info? Check out these LIVESTRONG articles: <br>
<a href="https://www.livestrong.com/slideshow/13429373-9-ways-to-clap-back-at-body-shamers/">9 Ways to Clap Back at Body Shamer</a>
</p>
<p class="article-related-links"> 
<a href="https://www.livestrong.com/slideshow/1012920-quotes-historys-badass-women/">The Best Quotes From History's Badass Wome</a>
</p>
<p class="article-related-links">
<a href="https://www.livestrong.com/slideshow/1012954-grocery-shop-like-nutritionist/">How to Grocery Shop Like a Nutritionist</a>
</p>
What Do YOU Think?
Have you ever done a detox? Did you successfully complete it? Do you think detoxes are beneficial for health or not? Let us know in the comments!