The Instant Pot has amassed a cult following in the last few years because, well, they're totally awesome! Everyone from millennials to moms rave about the relatively inexpensive pressure cookers that can roast a whole chicken in 25 minutes or make a mean Indian butter chicken in less than 30 — which is pretty impressive when you consider that the dish usually takes an entire day to whip up.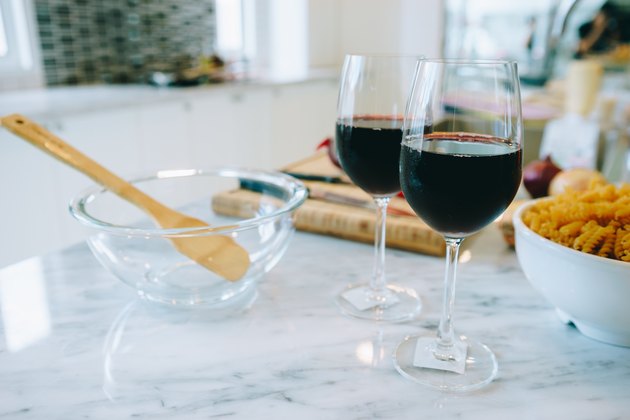 Now one food blogger has taken the Instant Pot to the next level by using it to make wine. Needless to say, the internet is freaking out. David Murphy, whose blog FoodnService covers what he's learned from 22 years in the fine-dining industry, got his inspiration from a meme floating around the web joking about why nobody has figured out how to turn grapes into wine using a slow cooker.
So Murphy decided to step up and take on the challenge. He began by asking around on Instant Pot Facebook groups for suggestions, and then he had an "aha moment."
"The Instant Pot has a 'yogurt' function, and you can use less heat," he told Vice's food website MUNCHIES via email. "Before you knew it, I was shopping on Amazon and running to the store to grab juice and to test out my theory … and it worked!"
Using a 64-ounce bottle of Welch's Grape Juice, a cup of sugar and a packet of Lalvin Red Wine Yeast, the food blogger succeeded in producing a "palatable" wine with "hints of chocolate and dark cherries" that tastes a bit like merlot. (For the full recipe, check out Murphy's blog.)
While this news is quite exciting for wine drinkers (especially those on a budget), don't expect to be turning grape juice into wine in less than 30 minutes. The whole process is actually quite complicated and time-consuming.
In fact, it takes about 48 hours to make the wine, and, once bottled, it needs to sit for at least eight days (and up to a month). It also costs around $8 to $12 to make, and while he maintains that it is better than "2 Buck Chuck" from Trader Joe's, if you do the math, good ol' Charles Shaw wine is still cheaper by about $6.
Of course, there's also the "cool factor" of being an amateur winemaker. Imagine the expression on your friends' faces when you pour them up a glass of homemade wine. And that definitely counts for something, right?
While Murphy might be the most famous person making booze with his kitchen appliance, he's not the only one. According to an Instant Pot rep, people are also using it to make moonshine. Yikes!
For more amazing Instant Pot recipes, click here!
<p class="article-related-links">Want more healthy living info? Check out these LIVESTRONG articles: <br>
<a href="https://www.livestrong.com/slideshow/13559432-need-a-reason-to-get-it-on-in-the-morning-here-are-7/">Need a Reason to Get It On in the Morning? Here Are 7!</a>
</p>
<p class="article-related-links"> 
<a href="https://www.livestrong.com/slideshow/13710077-spanking-and-dry-spells-10-celebrities-incredibly-honest-sex-confessions/">Spanking and Dry Spells? 10 Celebrities' Incredibly Honest Sex Confessions</a>
</p>
<p class="article-related-links">
<a href="https://www.livestrong.com/slideshow/13709848-10-celebrities-over-60-share-their-hot-bod-secrets/">10 Celebrities Over 60 Share Their Hot Bod Secrets</a>
</p>
What Do YOU Think?
Have you ever made your own wine? Have you tried Murphy's Instant Pot wine recipe? Do you think you will? What are some of your other favorite Instant Pot recipes? Share your stories and thoughts in the comments below!