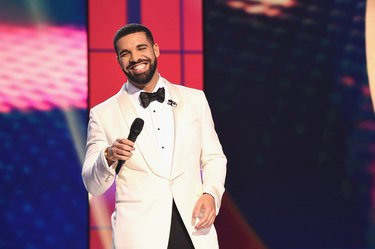 Drake's brand-new track "Nice for What" isn't the only 6 God news you need to know about. The 31-year-old rapper recently confirmed that he has stopped eating meat, and a cryptic Instagram post has fans speculating that he's actually gone full-blown vegan.
Last month, the rap superstar ignited suspicion that he's gone vegan when he posted a photo of himself on Instagram captioned, "If two vegans are angry at each other…is it beef?"
Several days later during an appearance on the live video-game streaming site Twitch, he straight-up revealed that he doesn't eat meat anymore. He also mentioned that he thought pineapple and chicken would be go well together on a pizza (but that's a different controversy to be discussed at another time). One important thing to note is the rapper didn't confirm that he's stopped eating all animal products. So the world was left to wonder: Is Drake vegan?
Rumors continued to spread last week when a series of billboards appeared in Toronto, Canada featuring Drake's signature prayer hands and the words "KALE GOD." Toronto-based fast-casual "health-food" chain Freshii was behind the billboard campaign.
The company even created a custom URL destination for the campaign, which features a letter from Freshii's lead nutritionist, Andie Shapira. In it, Shapira congratulates Drake on going vegetarian and outlines the many benefits of a plant-based diet.
"I know the transition takes getting used to," writes Shapira. "Nobody becomes a Kale God overnight." It should be noted that Freshii does not imply that Drake has gone full-on vegan. Instead, the letter states, "There's no one-size-fits-all approach when it comes to a vegetarian diet."
A few of Drake's food favorites might suggest that he's not totally vegan (yet). He loves white wine spritzers, which happen to be a surprisingly low-calorie alcoholic beverage choice, although the wine part of the beverage is not entirely vegan. Often, animal-derived products, including egg-whites, pectin and isinglass (which is made of fish bladders) are used in the manufacturing process.
What's more, Drake is a major fan of The Cheesecake Factory, as indicated by these lyrics from his song "Child's Play": "Why you gotta fight with me at Cheesecake? You know I love to go there." Unfortunately, neither of these examples really point to a conclusion: You can find vegan options at Cheesecake, provided you ask for a few substitutions, and there are many vegan wines out there.
One more hint regarding Drizzy's dietary tendencies: In his 2016 track "4pm in Calabasas," he raps about eating calamari all summer. Of course, it's been two years since then and a lot has changed, including the fact that he's recently become the first male solo artist to have two singles top Billboard's Hot 100 for 10 weeks. He's also started brushing his teeth with activated charcoal.
Ultimately, there's no way of knowing whether this plant-based papi is actually vegan until he confirms it himself. Until then, we'll just have to take comfort in the fact that his choice to be vegetarian prevents him from eating chicken-and-pineapple pizza.