Meghan Markle's wellness obsession appears to be rubbing off on Prince Harry, who is allegedly quitting smoking and getting shredded ahead of their much-anticipated May 19 wedding.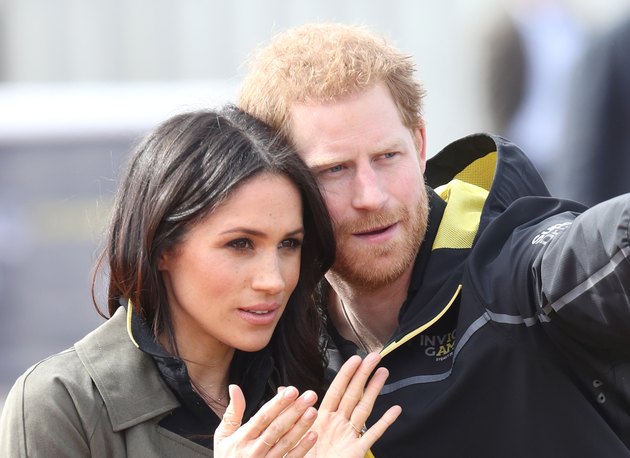 The royal insider tells the New York Daily News that Prince Harry has already lost 10 pounds since he and Markle got engaged in November by quitting smoking and cutting back on alcohol.
"One of the reasons she got him to quit smoking is because smoking affects sperm production," the insider says. In other words, the couple are getting ready to start a family (and we are getting ready burst from all the cuteness).
Dawn Patrol
We all knew that Markle is a total fitness junkie, but let us not forget that Prince Harry spent 10 years in the armed forces, including two tours in Afghanistan. So, according to New York Daily News' source, the hunky prince is throwing it back to his military days with a totally disciplined workout routine.
"He's been spotted there [the gym] at 7 a.m. almost every day," the source says. "He's getting his soldier body back." Nice.
Star Treatment
Prince Harry is also said to have been working with celebrity nutritionist Gabriela Peacock, whose diet plan emphasizes whole grains and small, frequent meals to manage blood sugar levels, according to her website. Men's Health reports that Peacock also has her clients cut down on sugar and eliminate dairy, which shouldn't be a problem for Prince Harry, since he ditched dairy and pizza (gasp!) a while ago.
It's also worth noting that Peacock specializes in skin health and anti-aging, so we're fully expecting Prince Harry to be glowing on his big day.
So the soon-to-be groom is putting in the work now, but what about when the wedding is over? Well, we're pretty confident that his healthy-living habits will stick. After all, he's about to have a bonafide wellness guru for a wife. Let the wedding countdown begin!
<p class="article-related-links">Want more healthy living info? Check out these LIVESTRONG articles: <br>
<a href="https://www.livestrong.com/slideshow/13711636-how-to-eat-like-carrie-underwood/">How to Eat Like Carrie Underwood</a>
</p>
<p class="article-related-links"> 
<a href="https://www.livestrong.com/slideshow/13709737-4-cereals-that-are-terrible-for-you-and-5-better-options/">4 Cereals That Are Terrible for You (and 5 Better Options)</a>
</p>
<p class="article-related-links">
<a href="https://www.livestrong.com/slideshow/13711298-12-celebrities-guilty-food-pleasures/">Meghan Markle's French Fries and Wine, Plus 11 Other Celebrities' Guilty Food Pleasures</a>
</p>
What Do YOU Think?
Will you be streaming the royal wedding? What's your opinion on people getting fit before weddings? Share in the comments section!