With the royal wedding just three weeks away, tennis legend Serena Williams offered some endearing advice to her friend Meghan Markle.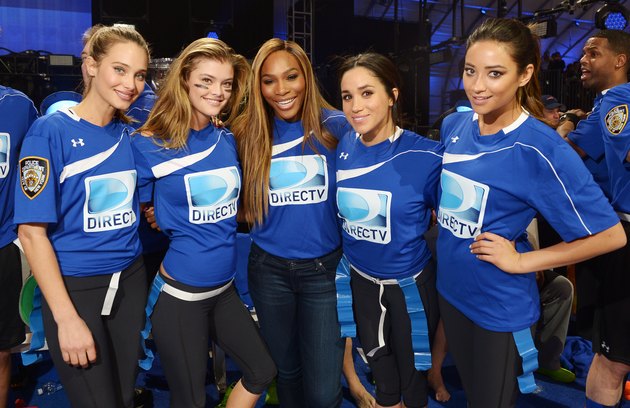 "I just think it's so important to enjoy the moment," Williams, who married Reddit co-founder Alexis Ohanian in November, said on "Good Morning America." "And eat cake. I didn't get to eat mine at the wedding. We were just having so much fun."
We have a good feeling Markle will indulge in some wedding cake because she chose one that's totally up her alley. Kensington Palace announced earlier this year that Markle and Prince Harry decided on an organic lemon elderflower cake topped with buttercream and fresh flowers, made by Claire Ptak of the London-based Violet Bakery.
Williams also wanted to remind the former "Suits" actress to embrace all the planning leading up to her and Prince Harry's May 19 ceremony.
"If I could give her any advice, it would be to just enjoy the preparation, enjoy the planning," she says. "It goes so fast."
Williams, who gave birth to daughter Alexis Olympia Ohanian Jr. in September, and Markle struck up their unlikely friendship back in 2014, while playing in DirecTV's Celebrity Beach Bowl, according to E! Online. Markle has since called Williams one of her closest friends, and once wrote on her now-shuttered wellness blog, The Tig, that their closeness in age, mutual passion for hot sauce and "endless ambition" solidified their connection.
But don't get your hopes up about seeing a sweet wedding selfie from these BFFs: Williams confessed that she may not be able to make it to Markle's big day.
"I think it's during one of the tournaments, so we'll see if I can make it," she said. At least we can be happy that she's making such an epic comeback.
The 23-time Grand Slam champion also opened up about complications she experienced while giving birth and motherhood.
"I'm having the best time as a mom," she said. "[Olympia] just brings out patience in me, and I love that about her."
For more realness (and cuteness) from Williams, check out her new HBO five-part docu-series "Being Serena." And if you can't get enough of Markle and Prince Harry, read up on how he's shedding pounds and how she's eating and working out before their (everyone's) big day.
<p class="article-related-links">Want more healthy living info? Check out these LIVESTRONG articles: <br>
<a href="https://www.livestrong.com/slideshow/13558883-10-silent-relationship-killers-that-could-ruin-your-love">10 Silent Relationship Killers That Could Ruin Your Love</a>
</p>
<p class="article-related-links"> 
<a href="https://www.livestrong.com/article/13429351-8-seriously-cute-but-dangerous-creatures-to-watch-out-for-while-traveling/">8 Seriously Cute But Dangerous Creatures to Watch Out for While Traveling</a>
</p>
<p class="article-related-links">
<a href="https://www.livestrong.com/slideshow/13429376-8-bizarre-internet-beauty-trends-millennials-are-obsessed-with">8 Bizarre Internet Beauty Trends Millennials Are Obsessed With</a>
</p>
What Do YOU Think?
Will you be tuning in to the royal wedding? If you could give some advice to the bride- and groom-to-be, what would it be? Share in the comments section!