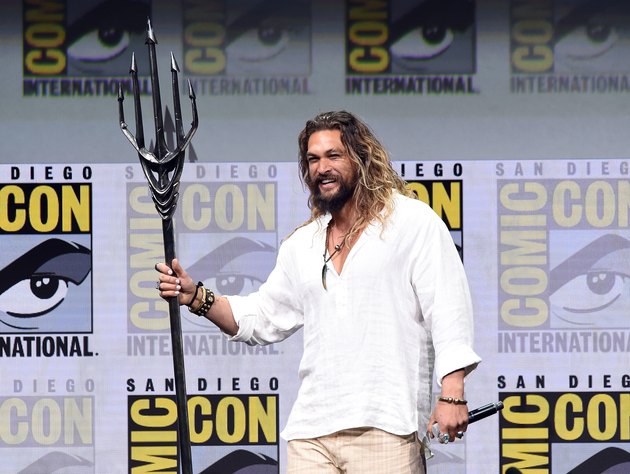 Ahead of the film's much-anticipated trailer (which will premiere at San Diego Comic-Con in July), LIVESTRONG.COM spoke to "Aquaman" trainer Stuart Walton about the eating habits that helped transform the 38-year-old actor into a half-human, half-Atlantean superhero.
The good news? "No foods were off limit, nor do they need to be," says Walton. That included Momoa's beverage of choice: a hearty pint of Guinness. As luck would have it, the dark Irish stout, known for its creamy mouthfeel (as the beer connoisseurs say), is actually relatively low in calories: A 12-ounce serving of Guinness Draught contains 125 calories and 10 grams of carbs, as compared to 190 calories and 18.7 grams of carbs in a Samuel Adams Octoberfest, and 210 calories in Sierra Nevada Stout.
That all makes sense given Walton's general philosophy on healthy eating, which he has summed up in three words: nutrition, balance and enjoyment. Instead of restricting foods, the London-based trainer says he and Momoa focused on manipulating the actor's macronutrient intake (more on that in a sec) while incorporating "the foods that Jason enjoys most."
For the uninitiated, the macros-style of dieting is about tallying the grams of carbs, proteins and fats in your diet to achieve a particular ratio, one that's often designed to build muscle without adding fat.
The whole thing may sound more tedious than the traditional task of counting calories (because, well, it is), but proponents of the approach say counting macronutrients allows for more flexibility — and may lead to better results.
Before an intense workout, Walton tells us that Momoa would fuel up on carbs — either plenty of fresh fruit if it was early in the day or a meal loaded with with quinoa or rice later in the day. His other pre-workout secret? "A strong coffee!" says Walton. (Research has shown that for some people a dose of coffee can jump-start your workouts and improve performance.)
As for protein and fat (the other two macros that make up a macros-focused diet), Walton tells us that Momoa ate lots of sashimi (mostly barramundi and salmon) as well as steak, adding in avocado and olive oil for a dose of healthy fats.
Because of the film's intense shooting schedule (which included plenty of underwater scenes), Walton says they weren't stringent about meal times. "We would eat pre- and post-workout and, other than that, timings would be dictated by when he was being shot," he shares.
The bottom line: "Jason is such a dynamic, positive presence," Walton says. The most important thing was to keep him "fueled and energized until wrap." Good advice for anyone, right?
What Do YOU Think?
Are you excited for the "Aquaman" movie? Do you follow Jason Momoa on Instagram? Have you tried counting macronutrients? Let us know in the comments below!