Jessica Biel recently shared a side-by-side image of herself as part of the viral #10yearchallenge, and to say she hasn't aged is an understatement. In fact, we're thinking that at 36 (almost 37; her birthday is in March), the mom-of-one may have even aged backwards.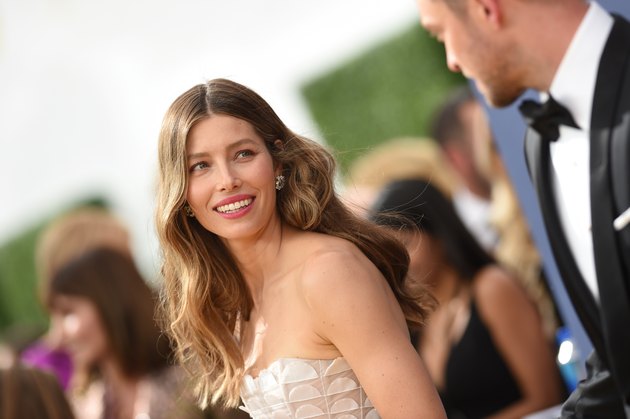 From her dewy, glowing skin and wrinkle-free face to her perfectly toned body, it's clear that Mrs. Justin Timberlake is devoted to an uber-healthy lifestyle. So just what are the daily habits that keep her living her best wellness life ever?
Here's everything the stunning star of "The Sinner" eats in a day — as well as details about her workout and her other self-care habits.
Working That Balance
When it comes to diet and fitness, moderation is key for Biel. In 2017, she revealed to the Los Angeles Times that she wasn't "all-out anything," and that her approach was more about creating a balance whenever possible. That being said, Biel confessed that she simply felt "better" when she cut two things out of her diet: wheat and dairy.
"My digestion is better, I feel better, I have more energy… I just try to eat really healthy," Biel said. She also admitted that when she's training for something (as in trying to get into shape for a specific role), she will up her protein intake.
Embracing Fresh Produce
Biel doesn't just buy organic — she grows it! "We have a beautiful garden and go out all of the time, every couple of days, pick spinach and pick radishes and things and throw them together in a salad and it's wonderful," she told the Los Angeles Times. "That's probably one of the coolest things I think about living in California is that we can really grow all year long."
Breakfast
Biel likes to start the day off on a sweet — but super-healthy — note. She and her family enjoy a Paleo pancake mix with "a lot of coconut, no gluten, no wheat, no dairy — delicious," she told the Los Angeles Times. She tops off the pancakes with "some cashew or almond butter on top with some local honey."
Additionally, the family will nosh on some chicken-apple sausage and fresh juice from the Juicero machine. Biel's other breakfast drink of choice? Most days, she'll sip on green tea with honey.
Lunch
If Biel is home for lunch, she'll toss together a quick salad with greens and other veggies from her garden. Sometimes, she'll "throw some quinoa in there" or grill up some veggie burgers from a health food store, topped with a handful of nuts.
Snack
Between lunch and dinner, Biel keeps her hunger at bay by noshing on a healthy snack: gluten-free pretzels with "this really yummy almond cheese dip. It almost tastes like cream cheese, but no dairy," she explained.
Dinner
For dinner, Biel keeps it simple: a lean protein, grains and veggies. "If we're home, it would be cooking up some salmon, some rice, grilling some vegetables, or going out and having some chicken — something a little heartier for dinner," she said.
Powering Up With Yoga
Biel, a former athlete, has modified her approach to fitness over the years. "Having my mind focused on exactly how I need to look and that perfect bikini body — that's changed," she says. "I just want to be healthy. I want my joints and my ligaments and my body to feel good and free of pain, so I can have fun with my family," she told Shape.
"I spent so many years of my young life playing soccer and jamming my knees, running and sprinting, and so many years as a gymnast gashing my body... I realized, as I got older, I can't keep this up."
Now a spokesperson for Gaiam, Biel is a huge yogi, enjoying the practice for the mental and physical benefits. "The breath work helps me feel that I'm connecting my mind and the breathing to the different movements — that to me feels like I'm connecting to my body in a way that I don't do on a normal basis," she continued.

Read more: 11 Essential Yoga Poses Everyone Should Practice
Well-Rounded Training
Biel also works out with Jason Walsh, who revealed to PopSugar that the two do "lots of band work to strengthen the muscles around the hips," as well as "any and every type of single-leg exercise you can think of" — including single-leg deadlifts, single-leg hip thrusts and single-leg squats.
Oh yeah, she can also execute some pretty mean pistol squats, which are booty-busting in the best way possible. Because it requires a lot of balance, the move targets lower-body muscles — including your quadriceps, hamstrings, calves and booty — and also activates your core muscles and the muscles on the inside and outside of your legs.
Jessica Biel, we're in awe of your devotion to healthy living. Keep doing what you're doing, girl!