Hershey's cocoa powder is sugar free and has a rich chocolate taste. Many brownies use both cocoa powder and melted chocolate for depth of flavor. Instead of sugar, you could use a sugar substitute such as Splenda, Equal, erythritol, which is a sugar alcohol, stevia or a combination of these choices.
Substituting eggs with an egg substitute and applesauce instead of oil can lower fat and calories. You may also try whole wheat or spelt flour instead of all-purpose flour to add fiber and nutrients. Walnuts may be used to add flavor, texture, protein and heart-healthy omega-3 fatty acids.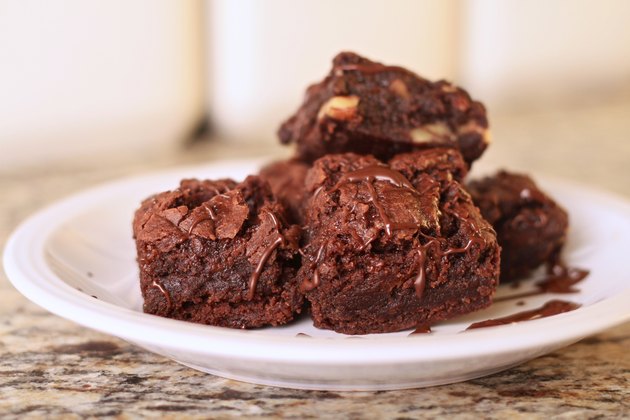 Step 1
Preheat the oven to 350 degrees. Lightly grease the 8x8 inch pan with cooking oil spray or coconut oil.
Step 2
Melt the chocolate and butter or coconut oil together in a small saucepan and set aside. If using applesauce, simply melt the chocolate in the microwave, stirring every 30 seconds until it is melted. Set aside.
Step 3
In a mixing bowl combine eggs, applesauce, if using it as an oil substitute, vanilla extract and melted chocolate. Mix well.
Step 4
Combine all dry ingredients in a separate mixing bowl. These include the cocoa powder, flour, salt, sugar substitute of your choice and baking soda. Slowly add wet ingredients into the dry mix, stirring as you go.
Step 5
Add the walnuts once the batter is completely mixed and pour into greased baking pan. Bake 25 to 30 minutes until a toothpick inserted into the brownie comes out clean.
Things You'll Need
1/4 cup Hershey's cocoa powder

4 oz. melted unsweetened chocolate

2 eggs or 1/2 cup eggbeaters

1/4 cup butter or coconut oil or 1/2 cup applesauce

1/2 cup flour -- all purpose or spelt

1 cup erythritol or 1/2 cup sugar and 6 packets of Splenda or Equal

1/4 tsp salt

1/2 tsp baking soda

1 tsp vanilla extract

1/2 cup chopped walnuts -- optional

8 in. square baking pan

Cooking oil spray

2 mixing bowls
Tip
For better portion control, bake brownies in a muffin tin instead of an 8x8 inch pan. Lessen cooking time to 20 to 25 minutes. Top with a drizzle of extra melted chocolate.
Warning
Using erythritol will change the flavor and texture of the brownies. If you don't like it, but don't want to use sugar, Splenda or Equal, try using 1/2 cup of Sucanat, which is made from cane sugar but has fewer calories.
Is This an Emergency?
If you are experiencing serious medical symptoms, seek emergency treatment immediately.