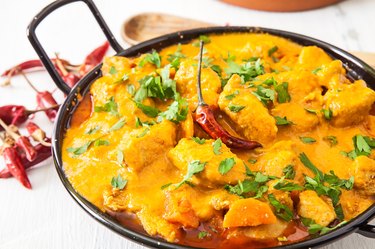 Mulligatawny soup is an Indian dish typically made with vegetables in consommé and spiced with curry and other flavors. The calories in mulligatawny soup may contribute to the daily nutritional goals you have set for yourself.
Calories
An 8-fl.-oz. serving of mulligatawny soup contains 100 calories, according to the CalorieKing website. This accounts for 5 percent of the calories you should consume in a day if you're adhering to a 2,000-calorie diet. The amount of calories will vary depending on the ingredients in the soup.
Nutrients
Many of the calories in mulligatawny soup come from carbohydrates. One 8-fl.-oz. serving provides you with 14 g -- the Institute of Medicine recommends that you consume 130 g of this nutrient daily. A portion of this soup also contains 8 g of protein, or 14 to 17 percent of the daily recommended intake. The soup does have 2 g of fat; MayoClinic.com notes that you should limit fat intake to 44 to 78 g per day.
Fun Fact
The CalorieKing website reports that to burn off the calories in a serving of mulligatawny soup, you can jog of 11 minutes, walk for 28 minutes, swim for 8 minutes or ride your bicycle for 15 minutes.