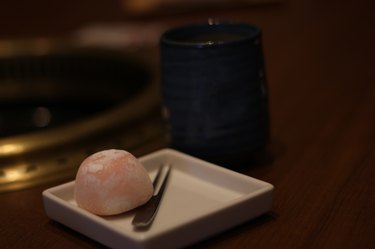 Mochi ice cream is a variation on mochi, which is a traditional Japanese treat made with sweet, sticky rice. A small ball of ice cream is wrapped inside a mochi covering to make mochi ice cream.
History
Mochi is a Japanese confection usually shaped in a small round rice cake. It was originally made as an offering to the gods in shrines, but it was later cut up and offered to the people for good health and fortune. Mochi ice cream is a variation on mochi that was created by the Lotte Co. to gain a foothold in the domestic ice cream market. Lotte Co. launched mochi ice cream in 1981, according to Miwa Murphy in an article published in the July 19, 2007 issue of The Japan Times. It is also referred to as Yukimi Daifuju ice cream.
Ingredients
Mochi ice cream is made from glutinous rice flour or sticky rice flour, corn flour used for dusting, water, sugar, vanilla and ice cream. Any flavor of ice cream can be used. Mochi ice cream is highly perishable and should be eaten the same day it is made or purchased.
Nutrition
Mochi ice cream is mostly sugar and carbohydrates. One average size mochi ice cream ball contains around 56 calories, 0.1g of fat, 13 g of carbohydrates, 0.6 g of protein and 5 g of sugar.