Estrogen and progesterone are the main sex hormones in women that are responsible for the processes within a normal menstrual cycle, including ovulation and menstruation. Estrogen is in charge during the beginning of the cycle and then decreases at the middle when progesterone takes over. If any one hormone level is off, it can throw off the whole system. A number of natural remedies and lifestyle changes are factors in hormone levels. Lifestyle is more important than genetics in regards to hormone levels, according to Dr. Marcelle Pick, OB/GYN, of Women to Women. You might need to increase some factors while decreasing others to have normal hormone levels. Consult with your doctor to determine your hormone levels and decide on the best plan to optimize them.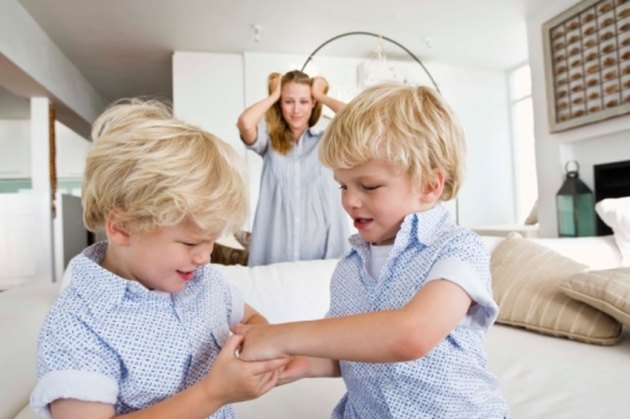 Diet
Diet is one lifestyle factor that significantly affects hormone levels. A diet of simple sugars and carbs, as well as synthetic additives, causes health problems like obesity and insulin resistance, which counteract your body from making healthy hormone levels, Pick notes. Further, consumption of phytonutrients is thought to increase estrogen levels, as phytoestrogens connect with estrogen cell receptors and prevent them from an excess of xenoestrogens. Soybeans, alfalfa and yams are a few types of phytoestrogens. In terms of progesterone, yams, soy, whole grains, walnuts, red meat, poultry, shellfish and herbs and spices like thyme, turmeric and oregano are all foods that boost your progesterone levels.
Exercise
Exercise can indirectly affect your hormone levels. By losing weight and keeping it off, your body is better able to regulate hormones. Epigee.com explains that too much fat can create an excess of estrogen. Exercise also lowers stress levels, which play a factor in hormone production. Engage in aerobic exercise and strength training to keep your hormone levels at an even keel.
Stress
Stress is another lifestyle factor with an influence on hormones. Stress causes your body to create an excess of the hormone cortisol, which gets in the way of normal hormone production. Stress also lowers your progesterone levels. So if your body needs higher levels of progesterone, practice stress-reducing activities such as yoga and meditation, laughter and hobbies you enjoy.
Chemicals
Chemicals found in foods and containers interfere with hormone levels. Specifically, xenoestrogens found in pesticides on produce, meat and dairy foods and in storage containers increase estrogen levels in a woman's body. Women to Women recommends consuming organic foods and using metal, porcelain and glass food and beverage storage containers instead of plastic ones.
Herbs
Some herbs seem to have an effect on hormone levels. Black cohosh and chasteberry are herbal remedies that have claims of regulating hormones. Herbs such as saw palmetto, dong quai, hops and motherwort leaf are all thought to raise your estrogen levels. Speak to your doctor before using any of these herbs, especially because raising levels of one hormone may decrease the other.