Peppermint candies are not all created equal, but you can bet the primary ingredient is going to be sugar. Sugar tops the list, although the other ingredients and use of color vary by candy type and manufacturer. Despite individual brand differences and sugar, peppermint candy is generally fat- and cholesterol-free.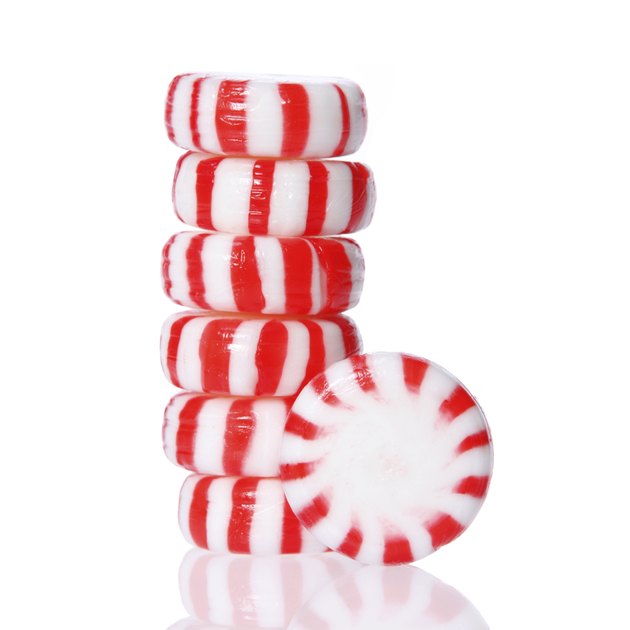 Ingredients Following Sugar
Different brands and types of peppermint candies have different ingredients. The second ingredient in Brach's Starbrite Peppermints hard candy, for example, is corn syrup, followed by citric acid and undisclosed artificial flavors, according to the Candy Favorites website. Altoids, another hard peppermint candy, contains the additional ingredients of gum arabic, oil of peppermint for natural flavoring and gelatin, according to the label on the candy tin. Stewart soft peppermint candy, which is a chewy take on the treat, contains oil of peppermint as its second ingredient and no other ingredients besides the coloring, according to the Groovy Candies website.
Color
Peppermint candy is generally red and white, save for the all-white Altoids, but that doesn't mean another color or two isn't in there. Brach's Starbrite Peppermints contain three red colorings, two blue colorings and two yellow colorings. Altoids has no colored dyes and Stewart soft candies have two red hues.
Calories
The calorie count in peppermint candy varies between the hard and soft candies as well as among the brands. A three-piece serving of Brach's Starbrite Peppermints has 60 calories, according to My Fitness Pal, the same amount of calories as a three-piece serving of the chewy Stewart candies. Altoids have a lower calorie count, with a three-mint serving containing 10 calories.
Considerations
Peppermint candy ingredients are not always the same, even with the same brand of candy. Brach's candies come with a note that says the product may contain salt and partially hydrogenated vegetable oil, the latter of which can be made of soybean oil, cottonseed oil or both. Although the manufacturer of Altoids lists the nutrition information online, it advises looking at the back of a tin to learn the ingredients because they can vary.