The health triangle is a teaching tool that examines mental, physical and social health. It teaches that the three triangle elements are interconnected. Thus all three sides of the triangle need to be balanced to achieve true health. When one side of the triangle is emphasized too much--or not enough--the other sides will change. This leads to an imbalance. Teachers of the triangle emphasize taking responsibility for your own health by practicing prevention, such as wearing seat belts, and by actively improving personal health. You improve health by incorporating healthy habits like a proper diet and eliminating risk factors for poor health, such as smoking.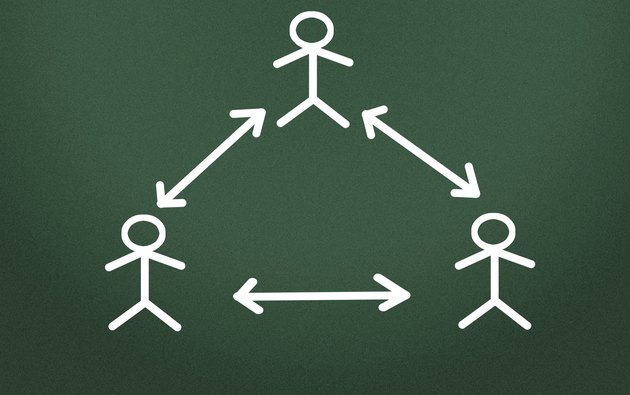 Physical Health
Physical health addresses the body's ability to function. Components include exercising regularly, eating a nutritious diet, getting enough sleep and rest, resisting harmful substances like alcohol and drugs, maintaining a healthy weight and practicing good hygiene.
Mental Health
Mental and emotional health examines how a person thinks and feels and how he copes with everyday life, including how well he relates to others. A person with good emotional health is in touch with his feelings, expresses those feelings in an appropriate manner, enjoys learning, uses his mind to develop thinking skills, learns from his mistakes and accepts responsibility.
Social Health
Social health measures the way a person reacts to people in her environment. It encompasses family and peer relationships as well as public health. To attain good social health, a person needs to communicate well, show respect, care for herself and others, both seek and lend support, have the ability to make and keep friends and know how to work or play cooperatively.
Risk Factors
Risk factors that can throw a person's health triangle out of balance include lack of exercise, poor eating habits, risky sexual behavior, alcohol and drug use, smoking or chewing tobacco and behavior that leads to injury or another health threat. Triangle teachers emphasize that risks can be cumulative and add up to a total that is greater than a person expects.
Attitude
Attitude is the key to maintaining good health, according to Health Triangle literature from the Tamaqua Area School District in Pennsylvania. A person must believe good habits and prevention, such as wearing sunscreen, lead to good health. Then he must practice these habits. Otherwise problems will develop, such as disease and other ailments.