Flavored butters help add interest to a variety of dishes. You can add herbs, spices, vegetables and even fruits to regular butter to boost the flavor profile and make your food more exciting. Mango butter gives a dish a slightly tropical feel, and it pairs well with corn on the cob or roasted vegetables. You can make mango butter in your own kitchen for a fraction of the cost of buying it prepared.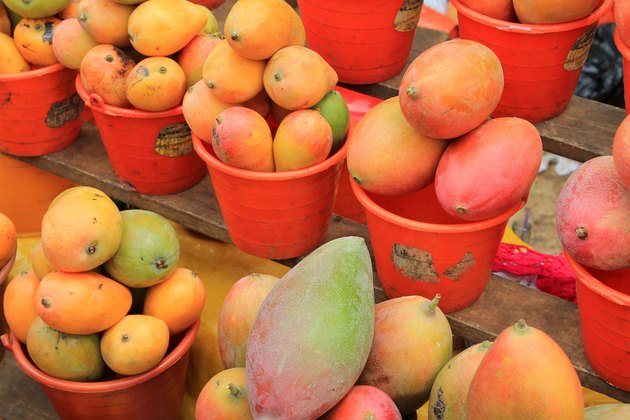 Step 1
Slice one ripe mango around the middle, all the way down to the stone. Twist the two sides apart and remove the stone.
Step 2
Scoop out the flesh of the mango with a spoon, and finely chop, or puree, it in a blender or food processor.
Step 3
Mix 1/2 cup of mango puree with 1 cup of unsalted, room temperature butter in a mixing bowl, and then place in a dish and serve.
Step 4
Refrigerate the leftover mango butter for up to two weeks.
Things You'll Need
1 cup unsalted butter

1/2 cup mango

Knife

Spoon

Blender

Mixing bowl

Plastic wrap