French onion soup has epitomized rich taste and hearty fare since the first written recipe in 1651 in France. Balance the rich, savory cheese, sweet caramelized onions, hearty bread and salty beef broth with the tastes that are missing from the soup: sour and bitter. Taken together, these five tastes -- savory, sweet, salty, sour and bitter -- are what Karen Page and Andrew Dornenburg, authors of "The Flavor Bible," call the basic components of flavor.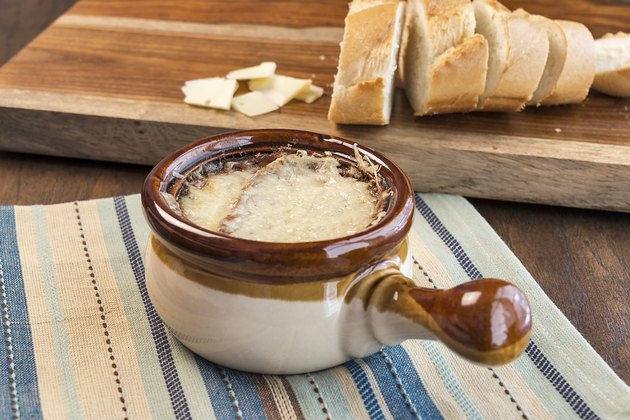 Acidic Foods
Add acidity, or sourness, to other dishes you serve to balance the sweet onions and the savory cheese and bread. Possibilities include a salad with orange segments and capers, or a meat course with a sauce of dried or fresh berries such as sour cherries, blackberries or cranberries. Page and Dornenburg include cream cheese in their list of sour flavors and suggest that a piece of cheesecake or carrot cake with cream cheese frosting would be a great finish to your meal.
Bitter Foods
Chef Sharon Hage of York Street in Dallas, Texas, calls bitterness "the cleansing bite" that makes you want to eat more. She serves watercress and arugula with rich steaks and tuna dishes that you might serve as a second course after the soup. If you don't serve a meat course, add a few bitter greens to a green salad composed primarily of more mild greens such as butter lettuce or red leaf lettuce. Incorporate other bitter tastes in your meal with vegetable sides dishes such as sauteed kale or spinach. Serve dark chocolate in a pudding or cake for dessert.
Add Protein
Turn French onion soup into a full meal by adding additional protein to your recipe. The American Council on Exercise uses one 15 oz. can of chickpeas with three cans of reduced-sodium beef broth. The council recommends adding more fiber to the soup by using whole-wheat bread. They add an additional sweet and savory note with dry sherry and caution that cooking sherry has more sodium than drinking sherry.
French Theme
Chef Jacques Pepin uses chicken stock instead of beef broth in his Lyonnaise onion soup. His daughter Claudine notes that there are as many recipes for onion soup in France as there are meatloaf recipes in America. For what Pepin calls an elegant dinner, he serves the soup as a first course, followed by venison steaks with a relish of black currants, chestnut puree and cranberries, a green salad and, to finish, a cheesecake with blueberry-currant sauce.
Cajun-French Meal
To celebrate Mardi Gras in 2011, the Northern Rhode Island Council of the Arts asked Chef Gary McLaughlin to feed the crowd with a buffet. Among the appetizer choices was French onion soup. Entree choices included shrimp etouffee, pulled pork, jambalaya or Creole chicken. Chef McLaughlin also provided hot potato salad, green salad and spicy cole slaw. Dessert was bourbon rice pudding.