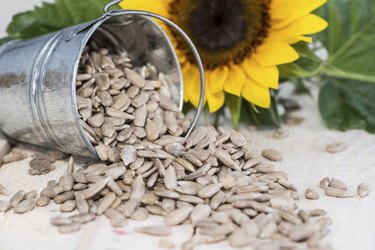 Sunflower seeds are native to North America, and since the Native Americans discovered that sunflower seeds make a nutritious and portable food, they have been a popular snack. Sunflowers have become an important cash crop in the United States, and their seeds grace supermarket and natural food store shelves around the world. You don't need to settle for store-bought sunflower seeds, however. You can roast your own sunflower seeds at home in about 40 minutes.
Step 1
Preheat the oven to 300 degrees.
Step 2
Spread the sunflower seeds in a shallow pan.
Step 3
Roast the seeds for 30-40 minutes, stirring occasionally. You will know when they are finished when they turn golden brown.
Step 4
Remove the sunflower seeds and allow them to cool.
Step 5
Sprinkle salt on the sunflower seeds to taste, or leave them plain if you prefer. Store sunflower seeds in an airtight container.
Things You'll Need
2 cups sunflower seeds, dried and de-hulled

Shallow pan

Salt to taste