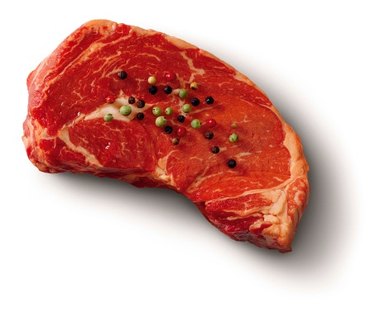 The Delmonico Steak originated in the mid-1800s as a specific cut of meat served at Delmonico's Restaurant in New York City. Since then, "Delmonico Steak" has referred to different types of meat, including the New York strip steak, rib-eye steak and club steak. However, food writer Joe O'Connell notes that well-know chefs such as Emeril Lagasse and Julia Child consider a Delmonico Steak to be a rib-eye cut. The rib-eye is a tender and fairly expensive cut of meat that can be cooked by giving it a light coat of oil, then grilling, broiling or pan-searing over medium-high heat.
Step 1
Prepare the onions and garlic by thinly slicing the yellow onions and chopping the white boiling onion and garlic. Set aside until you're ready to use them.
Step 2
Preheat the grill or griddle pan over high heat. After it has heated, wipe it with olive oil, then put the rib-eye steaks on the grill and cook six to eight minutes on each side. Sprinkle salt and pepper on the steaks, set them on a platter, cover with foil and let them sit while you cook the onions and sauce.
Step 3
Heat the skillet on medium-high, then add 1 tbsp. olive oil and the sliced yellow onions. Cook 10 to 12 minutes or until the onions are soft. Add balsamic vinegar and gently stir until the vinegar boils away and the onions are glazed a deep brown color.
Step 4
Put the saucepan over medium heat. Add 1 ½ tsp. olive oil, garlic and the white boiling onion. Sauté about five minutes or until the onion is tender. Pour the sherry into the pan and stir in the tomato and Worcestershire sauces. Season with black pepper to taste. The sauce is ready to serve once all ingredients are mixed and it is warm.
Step 5
Put the onions over the steaks and drizzle about half of the sauce over the top. Serve the remaining sauce on the side at the table.
Things You'll Need
2 large yellow onions

1 small white boiling onion

2 cloves garlic

Grill pan or griddle pan

Olive oil

4 rib-eye steaks, 1 inch thick

Salt

Pepper

Serving platter

Foil

Skillet

¼ cup balsamic vinegar

Saucepan

¼ cup dry cooking sherry

1 cup canned tomato sauce

1 tbsp. Worcestershire sauce
Tip
Use your favorite prepared steak seasoning instead of salt and pepper on the steaks.