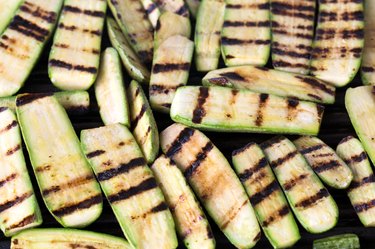 More than 100 million George Foreman Grills sit in kitchens worldwide, ready to be lean and mean and grill whatever you throw at them. While the grill's marketing touts its fat-reducing quality when grilling meats, you can grill naturally low-fat foods such as vegetables as well. Zucchini, whose summer bumper crops can give those 100 million grills a run for their money, is a healthy side dish that cooks in just minutes on the George Foreman Grill.
Step 1
Preheat your George Foreman Grill.
Step 2
Slice your zucchini; you can slice it lengthwise into long strips, or across into round slices.
Step 3
Season your zucchini according to your taste. You can toss it in Italian salad dressing, for example, or season it with red pepper or garlic powder.
Step 4
Spray olive oil spray on the grill's hotplates. Add the zucchini.
Step 5
Cook for four to six minutes, depending on the thickness of your zucchini slices. Both sides should be browned.
Things You'll Need
Olive oil spray

Seasoning
Tip
You can cook a vegetable medley on the grill by adding your favorites to the zucchini. Some vegetables, such as onions, should cook a little longer than the zucchini; others, such as tomatoes and mushrooms, need less time.