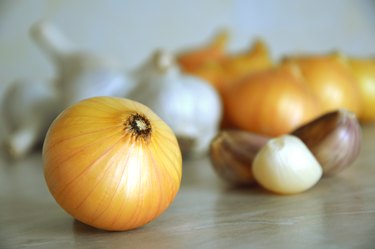 Lambs' tongue is one of those ingredients that sounds revolting to people who have never tried it but for those in the know, a lambs' tongue stew is one of the most succulent concoctions you can make out of meat. So get over your squeamishness, for as the BBC points out, eating the whole of the animal doesn't only make gastronomic and financial sense, it's also a more environmentally-friendly way to rear animals for their meat.
Step 1
Place the lamb tongues, garlic cloves and bouquet garni into a large cooking pot, cover in the stock and bring to the boil. Turn the heat down and let the mixture simmer for two hours, or until the tongues are tender, stirring occasionally.
Step 2
Remove the tongues from the broth when they are soft enough and add the chunks of turnip and potato to the pot. Simmer until tender, then remove from the heat. Prominent chef, Matthew Spector recommends you allow the tongues to rest awhile, until cool enough to handle, before peeling the skin from the tongues and disposing of it.
Step 3
Heat a pan to a medium temperature and line the bottom with olive oil. Brown the shallots, being careful not to burn them, and then bake in a medium hot oven until soft. Slice each tongue in half, lengthwise and return the pan of shallots to the hob. Add the bacon and tongue pieces, and transfer the turnips and potatoes, setting the broth to one side for a moment.
Step 4
Brown the pan ingredients over a high heat, then pour the stock over them. Pile the greens over the top, cover the pan and turn the heat down to a simmer. Leave the stew to stand over the heat for about three minutes, or until the greens are nicely wilted. Serve with hunks of rustic bread smeared with butter.
Things You'll Need
3 whole lambs' tongues

1 bulb garlic, cloves separated and peeled

1 bouquet garni

1 ½ liters chicken stock

2 small turnips, peeled and cut into chunks

2 medium potatoes, peeled and cut into chunks

Olive oil, for sautéing

½ lb. shallots, peeled

½ lb. smoked streaky bacon, cut into chunks

½ lb turnip greens or other green leaves, shredded roughly