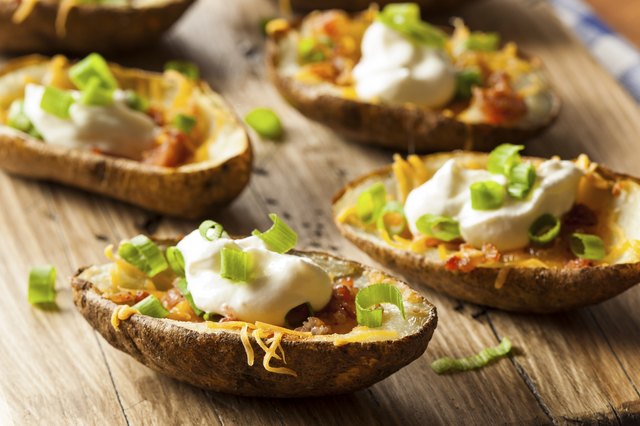 Crispy potato skins generally take up to two hours to prepare when baked in the oven from start to finish, but you can use the microwave to make quick potato skins. A pub favorite, potato skins are commonly filled with bacon and cheese and topped with sour cream, but you can fill the tiny boat shape with any of your favorite baked potato toppings. Russet potatoes work especially well for this dish because they have firm flesh and the skins crisp well, but medium-firm potatoes such as white potatoes and yellow Finns can also work well.
Step 1
Scrub the potato clean and pat it dry. Poke the potato all over with a fork. Rub salt generously over the outside of the potato. The salt adds flavor and helps crisp the skin. Place the potato on a microwave-safe plate.
Step 2
Microwave the potato on high for about 7 to 10 minutes, or until you can easily insert a fork to the center. The skin should begin to wrinkle slightly and develop a chewiness.
Step 3
Cut the potato in half and scoop out the flesh, leaving at least 1/4 inch of the flesh in place around the skin. Brush the inside and outside of each potato half liberally with cooking oil.
Step 4
Preheat your oven's broiler on the high setting. Place the potatoes on a broiler pan with the skin sides facing up. Broil for about 5 minutes; flip and broil the potato halves with the flesh sides facing up. This step is intended to make the skin crispy, but monitor the oven carefully to avoid burning.
Step 5
Fill the inside of each potato skin with real bacon bits and cheddar cheese, or a filling of your choice. Add your choice of dry spices to taste, such as salt, pepper, garlic powder and onion powder. Return to the broiler for a few more minutes or until the cheese melts and is bubbly.
Things You'll Need
Fork

Salt

Microwave-safe plate

Knife

Spoon

Basting brush

Cooking oil

Broiler pan

Toppings, like bacon bits and cheese
Tip
Alternative toppings include diced onions and chopped broccoli, but you can experiment with other toppings.