While it's true that women outnumber men in most yoga classes, yoga indeed has specific benefits for male students. According to "Yoga Journal," participants can expect better range of motion, looser muscles and a boost in mood --- all which can enhance other fitness efforts. If you aren't sure what to wear, think comfort and flexibility. What you wear to yoga class should allow you to focus less about your body and help you focus more on the poses.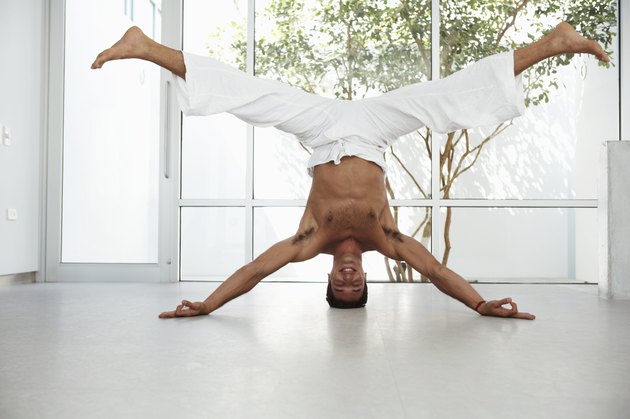 Undergarments
Your yoga attire should work for -- and not against -- you in your practice. Think twice about your underwear choice before you head into the studio. Look for underwear that can wick away moisture, like those made from a cotton blend. If you plan on wearing loose pants, you may want a tighter-fitting pair of underwear to help you feel more secure in certain yoga positions and poses.
Tops
While some guys might head into the yoga studio shirt-free, not everyone is comfortable enough to do this, especially if they are self-conscious about any part of their torso. In the case that you want to cover up, a tight-fitting tank or T-shirt is appropriate. While a loose shirt may seem most comfortable, keep in mind that your yoga instructor needs to see your form and may have difficulty doing this if your shirt is too baggy. Also, a baggy shirt can ride up around your ears when you do inverted positions. If you want to go loose, you may need to tuck in your shirt so it stays put.
Bottoms
When you put on a pair of shorts or pants for yoga, try moving around in them before you go to class. Bottoms can be distracting if they ride up, are too tight or make you feel exposed, so choose a pair that offer support and stay put for the most comfort. Writer and yoga enthusiast Neal Pollack suggests on the "Yoga Journal" website a mid-thigh short with a swimsuit-style liner for comfort and protection.
Footwear
Yoga is a barefoot practice, so you don't need to worry about special shoes in class. Some yoga students, however, do find that their feet slip or need extra support in certain positions. Yoga socks -- socks that have grips on the bottom -- are a solid compromise if going barefoot isn't working out for you during class.
Lose the Accessories
It's hard to get into the yoga frame of mind -- peaceful and focused -- when you're constantly looking at your watch or hearing your cellphone ring. To get the most out of class, ditch the accessories, such as watches, phones and sunglasses, and place them in a locker or near class walls and not beside your mat, warns MindBodyGreen. That way, there's nothing standing between you and a killer Down Dog.