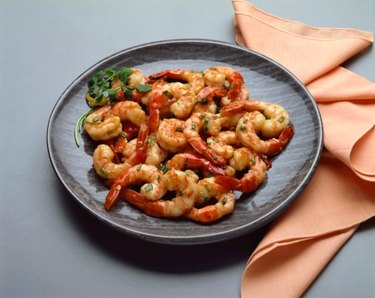 Shrimp is a tasty seafood option that is also low in fat and calories. Adding shrimp to vegetables is a nutritious way to include protein in your meal as well. One of the most common ways to cook shrimp and vegetables together is in a stir-fry. Your stir-fry should include several types of vegetables, fresh shrimp and your choice of sauce. Served with steamed brown rice, shrimp with vegetables is a healthy way to increase your intake of fiber, protein, vitamin A and potassium.
Step 1
Heat the olive oil in a large wok set over medium-high heat.
Step 2
Add the onions, ginger and garlic and saute for three to four minutes, stirring occasionally.
Step 3
Add the carrots, celery, red bell pepper and snow peas. Saute the vegetables for seven to eight minutes, or until they are beginning to get soft.
Step 4
Add the raw shrimp to the wok and cover with a tight-fitting lid. Reduce the heat to medium low.
Step 5
Cook the shrimp with the vegetables for five minutes, or until the shrimp has turned bright pink in color.
Step 6
Whisk the dry sherry, soy sauce, cornstarch, sugar and sesame oil in a small bowl until well-incorporated.
Step 7
Pour the sauce over the shrimp and vegetables and heat for three to four minutes, or until bubbling and slightly thickened.
Step 8
Serve the shrimp with vegetables immediately over steamed rice.
Things You'll Need
Large wok

2 tbsp. olive oil

1/2 cup of diced onion

4 tbsp. of fresh ginger, grated

2 cloves of garlic, minced

1/2 cup of shredded carrots

1/2 cup of sliced celery

1 red bell pepper, seeded and chopped

1 cup of snow peas, trimmed and cut in half

2 lbs. extra large raw shrimp, peeled and deveined

Small bowl

Whisk

1/4 cup of dry sherry

1/4 cup of soy sauce

3 tbsp. of cornstarch

1 tbsp. of sugar

1 tbsp. of sesame oil
Tip
Use other vegetables, if desired. Zucchini, broccoli, corn, peas and mushrooms are all tasty and nutritious options to consider.
If you do not want to make your own sauce, look for bottled options that are low in sodium.
This recipe can be served over white or brown rice, but brown rice has more fiber than white rice. It can also be served with noodles.
Add some chopped nuts for a boost of vitamin E and fiber. Cashews, almonds and peanuts all pair well with stir-fry recipes.
Warning
Do not overcook your shrimp. It will get rubbery and lose much of its flavor.