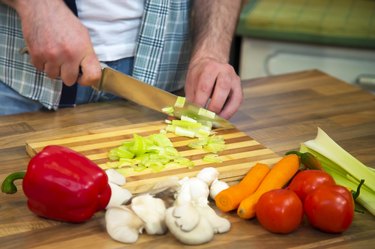 Celery is a crisp vegetable that contains vitamins A and C. Calcium is also found in celery. It is in the same family as carrots, and it can be purchased any time of the year. A wide variety of different types of celery are grown, but Pascal celery is the most familiar type. Celery can be enjoyed raw or cooked. One way to cook celery is to bake it in the oven. When choosing celery, look for celery that is even in color, and do not accept celery that is rubbery. Also check the leaves to make sure they are green.
Step 1
Set your oven to 350 degrees to preheat it.
Step 2
Separate the celery stalks and wash them under cold running water.
Step 3
Blot the stalks dry with paper towels.
Step 4
Remove the strings from the celery stalks by forcing the edge of your small knife under the celery strings and securing them between the knife and the pad of your thumb. With a firm grip, pull the knife and the end of the celery strings toward you. Do not stop pulling until you reach the end of each string and totally remove it. Make sure you take all of the celery strings out so your baked celery is easy to chew.
Step 5
Lay each celery stalk down on the cutting board. Cut the stalks into 2-inch pieces.
Step 6
Put the celery pieces in the large pan, along with 1/4 cup of water.
Step 7
Bring the water to a boil, then reduce the heat, cover the pan and cook the celery for about 11 minutes.
Step 8
Pour the celery and water into the colander to drain off the water.
Step 9
Put the celery in the glass baking dish and add the mushroom soup. Do not add water to the soup. Stir with a large spoon to combine the ingredients.
Step 10
Put the celery in the oven to bake for 30 minutes. Do not cover the celery.
Step 11
Sprinkle the French fried onion rings on top of the celery after 30 minutes, and then put the celery back in the oven to bake for another 10 minutes.
Things You'll Need
1/2 bunch of celery stalks

Paper towels

Small, sharp knife

Cutting board

Large pan with cover

1/4 cup water

Colander

3/4 can of mushroom soup, 10.5 oz. size

Large glass baking dish

Large spoon

1/2 cup crushed french fried onion rings
Tip
Add more French fried onion rings if you desire.
Season the baked celery with black pepper, if you like the taste of black pepper.