Since nature packages eggs individually, you can easily ramp recipes up or down whether cooking for one or a crowd. Although they are rich in protein and contain a mere 70 calories per egg, they also add fat into your diet -- almost 5 g of it for each egg. Since most of the protein is found in the egg white and most of the fat is in the yolk, keep your potatoes and egg breakfast a bit healthier by using only one yolk for every two to three egg whites.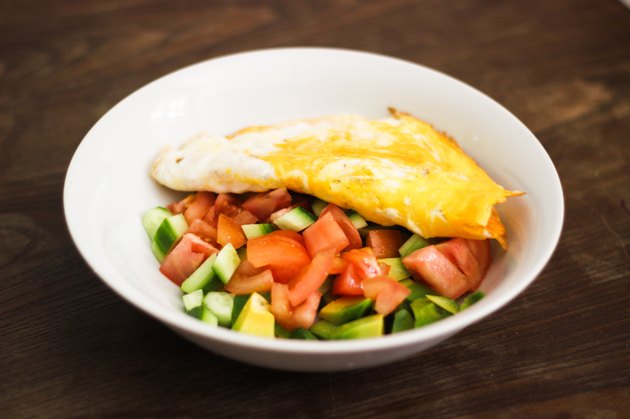 Step 1
Peel the potatoes and cut them into 1/2-inch cubes. Make the cubes as close in size to each other as possible to ensure even cooking.
Step 2
Coat the bottom of the skillet generously with olive oil, and set it over medium heat. Add the potatoes to the pan when the oil begins to shimmer. Cook the potatoes for 5 to 10 minutes, tossing frequently, or until the potatoes are tender and are starting to turn golden brown.
Step 3
Add the onions and bell peppers, and toss to combine them with the potatoes. Season the vegetables to taste with salt and pepper. Cook for an additional 3 to 5 minutes, stirring frequently, or until the onions are translucent and the bell pepper is soft.
Step 4
Crack the eggs into a small bowl, and whisk in the milk. Break the yolks so that they are fully incorporated into the mixture.
Step 5
Pour the egg mixture over the potatoes, and use a spatula or wooden spoon to mix the eggs and the vegetables together. Taste the eggs during the cooking process, and add seasonings if desired.
Step 6
Cook the egg and vegetable mixture for roughly 3 minutes, or until the eggs are cooked to the desired consistency.
Things You'll Need
1 small or medium potato

Olive oil

Small skillet

1/2 small onion, chopped

1/2 small bell pepper, chopped

Kosher or sea salt

Coarsely ground black pepper

1 to 3 eggs

1 tbsp. milk

Whisk

Heat-proof spatula or wooden spoon
Tip
You can cook the eggs using a variety of cooking methods. Create an omelet filled with the potatoes and topped with some cheddar cheese, or serve the potatoes as a side dish for poached, soft-boiled or fried eggs.
For an added zing, season the potatoes with a bit of cayenne pepper or paprika during the cooking process. Frank Pellegrino of Rao's Restaurant in New York City gives his potatoes and eggs an Italian flair by adding chopped flat-leaf parsley and Pecorino Romano cheese.
Warning
Always use the freshest eggs possible when cooking. Dr. Chai, medical epidemiologist at the Centers for Disease Control and Prevention, cautions that eggs should remain refrigerated until you are ready to use them, and you should dispose of any with cracked shells. Cook all eggs thoroughly, or until the yolk and white are firm, to prevent possible food-borne illness.