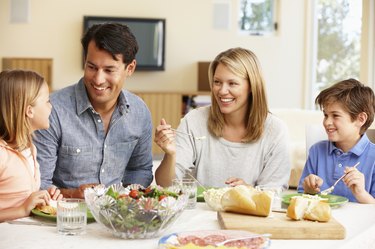 Scleroderma is a group of diseases that causes a hardening of skin and connective tissue. Localized scleroderma affects only the skin, while systemic scleroderma can also affect internal organs and tissue. Scleroderma can present differently in each affected person, and diet recommendations are targeted toward specific symptoms. If you experience some of the symptoms that can arise -- like gastroesophageal reflux disease; dysmotility, a condition in which the muscles of the gastrointestinal tract do not work as they should; dysphagia, or difficulty swallowing; skin hardening; or Raynaud's Phenomenon -- you may need to avoid certain foods.
Gastroesophageal Reflux Disease
Gastroesophageal Reflux Disease, or GERD, occurs when acids from the stomach escape into the esophagus and cause a burning sensation. According to the article "Eating Well: Nutritional Needs in Scleroderma," written by registered dietitian Lisa Gloede, you should avoid alcohol, caffeine, spicy foods and fatty foods if you experience problems with GERD. Some individuals find that decreasing the consumption of acidic foods, like tomatoes, can improve acid reflux. Avoid eating any foods two to three hours prior to bedtime as lying down can exacerbate the reflux of acid into the esophagus.
Dysmotility and Dysphagia
You may experience difficulty swallowing with scleroderma, termed dysphagia. The thickened and scarred tissue that scleroderma causes can lead to a narrowed esophagus, which results in dysmotility, or the slowed movement of food. You may need to avoid very dry foods if these problems occur. You can dip foods like crackers and breads into liquids so they are easier to swallow. Depending on the severity of these problems, you may also need to avoid large pieces of meats or vegetables. You can liquefy them in a blender or puree these foods to make them easier to swallow and travel down the esophagus.
Skin Hardening and Raynaud's Phenomenon
Skin hardening is a hallmark symptom of scleroderma. Raynaud's Phenomenon -- in which restricted blood flow to the hands and feet causes cold, numbness or pain -- is also very common, occurring in 90 percent of those with scleroderma, according to the National Institute of Arthritis and Musculoskeletal Skin Diseases. Both of these conditions can make it difficult to prepare foods. You may have trouble cutting fresh fruits and vegetables, which could lead to an avoidance of these foods. Rather than removing these nutritional powerhouses from your diet, however, try to buy pre-cut fresh or frozen fruits and vegetables or ask a family member to help you prepare these foods.
Other Nutrition Concerns
If you have scleroderma, you should maintain a proper intake of calories and consume a variety of nutrient-rich foods. Because the disease presents with a range of symptoms, you may or may not need to alter your current diet. If you have questions about your particular symptoms and their effects on your nutritional status, you should consult a doctor or a registered dietitian.