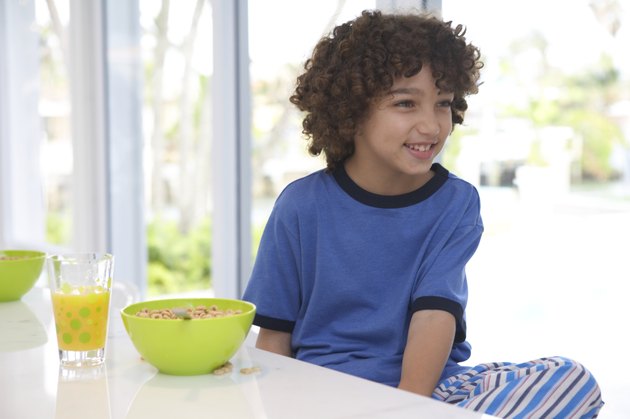 Losing weight requires you to consume fewer calories than you expend. Since moderately active women require about 1,800 to 2,200 calories per day to maintain weight, and men require about 2,200 to 2,800 calories per day, meals that contain 250 calories can help you limit your total calorie intake so that you can lose weight. Focus on portion sizes and low-calorie, nutritious choices.
Strategize to Make Healthy, Low-Calorie Meals
Plan ahead so you are not tempted to choose fast food or high-calorie convenience foods when you are hungry. Choose nutrient-dense foods, such as whole grains, fruits, vegetables, beans and lean proteins, so you can meet your nutrient requirements while limiting your calories. High-calorie, low-nutrient foods, such as fatty meats, sugary desserts and fried foods are less likely to fit into a low-calorie diet consisting of 250-calorie meals. High-fiber foods are more likely to be low-calorie.
Light and Tasty Breakfast Options
For a low-calorie breakfast, make an omelet with one large, whole egg and two egg whites, one cup of fresh spinach and a cup of fresh mushrooms. Add a quarter-cup of fat-free cheddar cheese for extra protein and calcium, and serve the omelet with half of a whole-grain English muffin for a total of 239 calories. If you don't have time to cook breakfast in the morning, grab a half-cup of fat-free cottage cheese with a cup of blueberries and a one-quarter-cup serving of sliced almonds.
Salad Makes Your Calories Go Further
Green salads are staples on many low-calorie diets because they can be big and filling without being high in calories. Start with 4 cups of Romaine lettuce and add a cup of chopped, raw vegetables, such as cucumbers, tomatoes or onions. Top your salad with 3 ounces of canned white tuna, and season your salad with 2 tablespoons of fat-free Italian dressing. Enjoy the salad with a small apple and the entire meal will only cost you 264 calories. Change up a salad by choosing different greens, such as spinach leaves, and add different vegetables, such as sprouts, bell peppers or zucchini. You can also try grilled shrimp, chicken breast or turkey breast instead of tuna.
Keep It Simple with Cottage Cheese
Cottage cheese is a low-calorie, high-protein option that requires no cooking or preparation. Mix diced green onions, cucumbers and dill into one-half cup of fat-free cottage cheese and sprinkle 2 tablespoons of sunflower seeds on top. Serve the cottage cheese dish with a cup of cut cantaloupe for a total of around 250 calories. The sunflower seeds are a source of heart-healthy unsaturated fats and the cantaloupe provides vitamins A and C.
Warm Up with Soup
Make your own soup for a low-calorie meal packed with nutrition. Combine two cups of reduced-sodium chicken broth, 2 ounces of diced cooked chicken breast, one-third of a cup of cooked brown rice and 3 ounces of frozen mixed vegetables all for 263 calories. This filling low-calorie meal is high in fiber and protein, and provides a source of iron and vitamins A and C. For variety, use whole wheat pasta instead of rice and for a vegetarian version, substitute a half-cup of cooked beans for the chicken.