A rash between the legs, also known as chafing, occurs when your skin, damp with sweat, rubs against other skin or your clothing. It may also occur as a result of sweat and dirt becoming trapped in your skin. In addition to a rash, you may experience raised bumps or blisters, itchiness and skin that has been rubbed raw. A rash generally clears up on its own; however see your doctor if your symptoms worsen or if you experience additional symptoms such as a fever.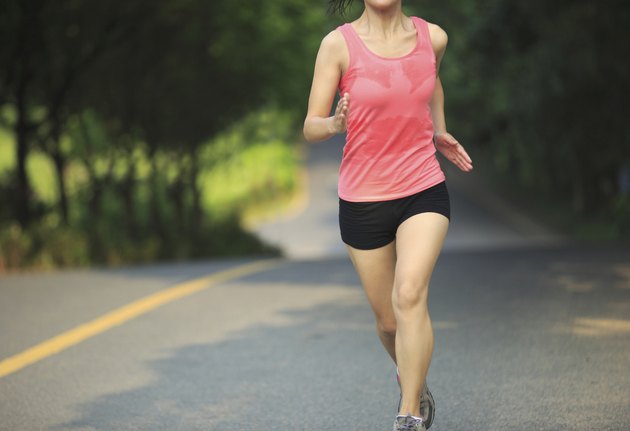 Chafing
Chafing is a skin irritation that occurs when skin rubs against skin, an article of clothing or other object that may be in the way, such as a bicycle seat, while exercising or performing other tasks that makes you hot and sweaty. Areas where chafing generally occurs include between the legs, armpits, around the breasts and nipples and the groin area. Symptoms of chafing include a rash, raised bumps or blisters as well as skin that feels tender or raw.
Heat Rash
Similar to chafing, heat rash is a skin irritation that occurs when sweat and dirt gets trapped between layers of your skin. Heat rash may produce similar symptoms as chafing, including red bumpy skin, as well as deep red lumps or fluid-filled, flesh-colored bumps. Your skin might also feel itchy or prickly. Heat rash usually clears on its own within a few days. Speak to your doctor if the pain or redness increases or you notice pus draining out of the raised bumps, as these may be signs of an infection.
Prevention
To help prevent a rash between the legs, wear athletic clothing made out of breathable materials that is not too tight or too loose. If possible, wear clothing that wicks sweat away from the body. Never wear brand new workout clothing on long walks, runs or during extensive workouts, as it may have chemicals and other irritants that may aggravate your skin. Always wash brand new workout clothing before wearing. Drink plenty of water during your workout and towel off frequently. Exercise indoors during warm summer months, and use a lubricant that is specially formulated to prevent chafing.
Treatment
Take a lukewarm shower and wash the area with a mild, fragrance-free soap. Pat the area dry then slather on some anti-fungal ointment. If the rash area is itchy, look for an anti-fungal ointment that also comes with hydrocortisone. If you plan on running errands or heading out after your run, place a large gauze or adhesive bandage over the area to prevent further irritation, suggests The Walking Site. If you don't plan on going out, let the area breathe as much as possible.