Amoxicillin belongs to a group of drugs called penicillins. Clavulanate potassium promotes the efficacy of amoxicillin by protecting it from being destroyed by certain bacteria. Amoxicillin and clavulanate potassium combined together form an antibiotic that treats many different infections caused by bacteria. Like all other medications, amoxicillin and clavulanate can cause side effects, some life threatening. It's important to let your doctor know of any medications you are taking, or any medical conditions you may have, prior to taking this medication.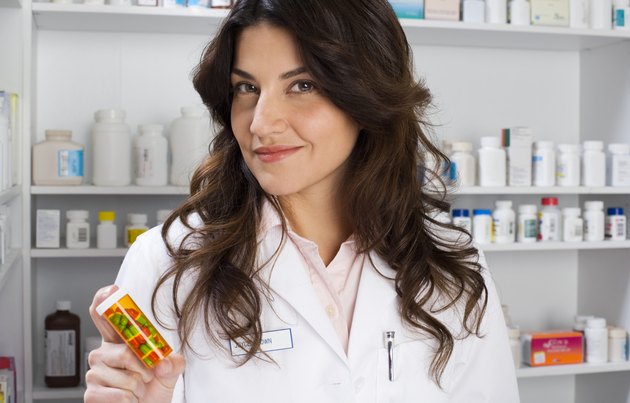 Nausea or Vomiting
Like other types of antibiotics, amoxicillin and clavulanate potassium tablets have the tendency to cause nausea or vomiting. It's important to take amoxicillin and clavulanate potassium tablets as directed for the full course of treatment. Drugs.com recommends taking amoxicillin and clavulanate with food to reduce stomach irritation. However, consult with the doctor or pharmacist about an alternative antibiotic if nausea or vomiting continues.
Diarrhea
Mild diarrhea can occur with antibiotic use, including the use of amoxicillin and clavulanate potassium. Antibiotics disrupt the normal, intestinal flora by depleting the good bacteria that thrives in there. KidsHealth.org recommends eating yogurt that contains Bifidobacterium bifidum or Lactobacillus acidophilus to restore the proper balance. However, a more serious form of diarrhea called pseudomembranous colitis may occur despite eating yogurt. Pseudomembranous colitis affects the large intestine and occurs as an overgrowth of the Clostridium difficile bacteria. Drugs.com notes that the condition may develop during the course of antibiotic therapy or within several months after stopping it. Symptoms include stomach pain or cramps, and severe diarrhea or bloody stools.
Dizziness
Amoxicillin and clavulanate potassium tablets may cause dizziness, states Drugs.com. Taking certain medications, or drinking alcohol along with amoxicillin and clavulanate potassium, further aggravates the dizziness effect. Therefore, it's ill-advised to operate a motor vehicle or perform other unsafe tasks until full effects of the medication are known.
Allergic Reaction
Cigna advises against the use of amoxicillin and clavulanate potassium if a prior allergic reaction has occurred to amoxicillin, clavulanate potassium or any other medications that contain penicillin. A severe allergic reaction called anaphylaxis shock may occur. Symptoms of shock include confusion, rash, hives, itching, difficulty breathing, tightness in the chest and swelling of the mouth, face, lips or tongue.