Gas is something everyone suffers from. However, sometimes gas can cause sharp and occasionally severe pain in the stomach. Most often, the pain will subside after a few minutes. If it does not, or if the pain is recurrent, several treatment options can help eliminate the symptoms.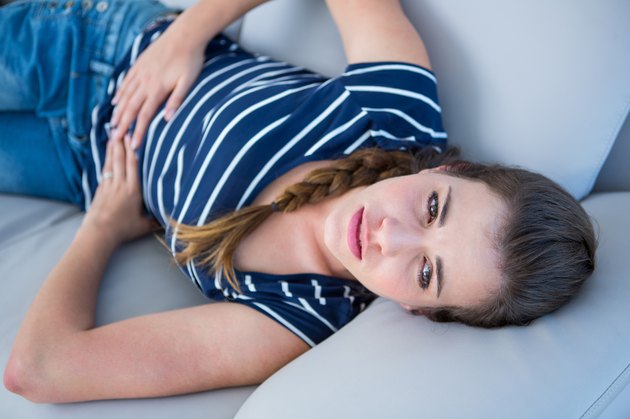 What Causes Gas?
Gas can be created from various sources. Every time you eat or drink, you swallow air, which travels to your lower digestive tract. However, most gas is created when the bacteria in your colon ferments carbohydrates that are not digested in your small intestine. Foods high in fiber, such as fruits and vegetables, are often the ones that create the most gas. Fiber is extremely healthy, as it works to regulate the digestive system as well as controlling blood sugar and cholesterol levels. However, fiber also helps in the creation of gas within the digestive system. Other health conditions, antibiotics, constipation and food intolerance also can cause gas.
Symptoms
Gas can cause pain—sometimes severe—in the stomach and abdomen. The pain is often described as sharp and jabbing or cramp-like. These pains can be intense and can change locations quickly. Sometimes, the pain can be confused or mistaken for another condition. If the pain is on the upper left side of the abdomen, it can be mistake for heart disease; if it is on the right side, it might be mistaken for gallstones or appendicitis. Gas accumulation can also cause stomach bloating and involuntary gas passing.
Treatment
Unless it is a symptom of another condition, gas can usually be treated through diet and lifestyle modification. Reduce your consumption of fried and fatty foods as well as dairy products. Cut back your intake of high-fiber foods to reduce gas. Gas can also be treated with medication. Over-the-counter medications such as Beano, Lactaid and Mylanta can help ease gas symptoms.
Lifestyle Remedies
Certain lifestyle habits might contribute to gas. Smoking increases the amount of air you swallow, which eventually turns into gas. Therefore, quitting smoking can decrease gas pains. The way you eat can also affect gas. Make sure to eat several small meals daily and to eat slowly, chewing your food thoroughly. According to the Mayo Clinic, mild physical activity can also help relieve gas.
When to See a Doctor
It is normal to pass gas about 10 to 20 times per day, and most gas pains will subside after a few minutes. However, if you have severe, prolonged or recurrent pain in your abdomen, consult a physician. Gas pains should especially be discussed if you also are suffering from nausea, vomiting, bleeding or other symptoms.