The body creates uric acid during the processing of chemical compounds called purines, which occur naturally in the body and are found in a wide array of foods as well. Although most uric acid dissolves in the blood and is excreted as urine, excessive levels of uric acid can cause health problems, most notably gout. Foods rich in purines elevate blood levels of uric acid and thus are known also as high uric acid foods.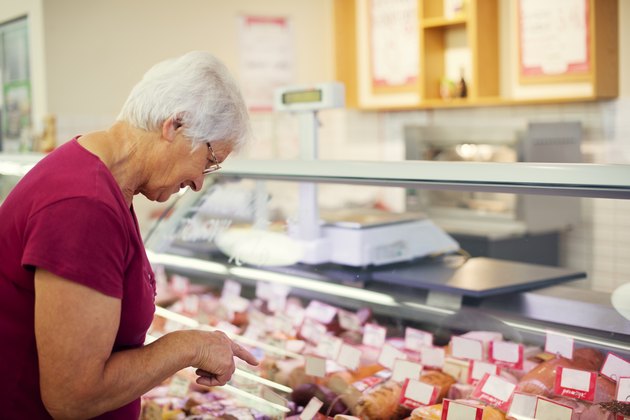 Meat, Poultry and Seafood
Meat, poultry and seafood rank near the top of the list of foods with high purine content, according to the Gout website. Purine-containing foods are measured in terms of milligrams of uric acid per 100 grams of the food itself. Those with 400 mg or more of uric acid are considered high-purine and should be avoided completely. If you're having uric acid-related health problems, restrict also your consumption of moderate-purine foods, those containing between 100 and 400 mg per 100 g.
According to data from the Acumedico website, meat, poultry and seafood with more than 400 mg of uric acid include calf's liver, 460 mg; sardines in oil, 480 mg; and calf's neck sweetbreads, 1,260 mg. Moderate-purine foods in this category include beef fillet, 110 mg; beef chuck, 120 mg; chicken breast with skin, 175 mg; chicken liver, 243 mg; lobster, 118 mg; pork chop with bone, 145 mg; salmon, 170 mg; sole, 131 mg; trout, 297 mg; tuna, 257 mg; tuna in oil, 290 mg; cooked ham, 131 mg; turkey with skin, 150 mg; anchovies, 239 mg; cod, 109 mg; halibut, 178 mg; ocean perch, 241 mg; Atlantic herring, 210 mg; pork sausages, fried, 101 mg; scallops, 136 mg; liverwurst, 165 mg.
Fruits and Vegetables
Generally speaking, fruits and vegetables are low in purine content and can be eaten freely. Only one food in this category falls into the high-purine category, according to the GoutPal website. With 488 mg of uric acid, the dried Boletus mushroom, often marketed as porcini, is a food to be avoided. Moderate-purine fruits and vegetable include sultana raisins, which come in at 107 mg, and dried beans and lentils, including white beans, 128 mg; soybeans, 190 mg; lentils, 127 mg; and chickpeas, 109 mg.
Other Foodstuffs
A few other foods, which fall outside standard categories, also contain high levels of uric acid and should be either omitted from your diet or sharply restricted. Such foods include baker's yeast, 680 mg; brewer's yeast, 1,810 mg; dried poppyseeds, 170 mg; and dried sunflower seeds, 143 mg. Also be wary of theobromine, an alkaloid that is found in acai berries, chocolate, coffee, cola drinks and tea and packs 2,300 mg of uric acid.