If you suffer from frequent colds, catch the flu often, feel fatigued, are plagued by dark circles under your eyes, have puffiness and water retention or you feel you have an abundance of cellulite, you may need a detox of your lymphatic system. Scientific support of detoxing is sparse, but that doesn't mean cleaning up your diet can't help your natural detoxifying organs, specifically, the lymphatic system, liver and kidneys, to work more efficiently and effectively. You don't need special pills and drinks to help detox this system, but simple dietary changes can help.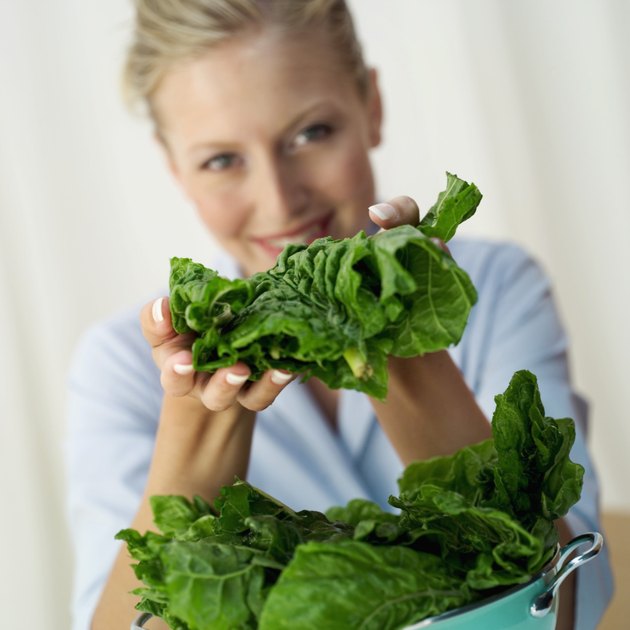 About the Lymphatic System
The lymphatic system consists of nodes, vessels, glands and organs that bolster your immunity. It carries waste away from the tissues and removes toxins -- including chemicals, bacteria and mold -- which set out to damage cells and make you sick. The spleen, for example, is the largest organ in the lymphatic system and is responsible for immune defense. When your spleen and your entire lymphatic system is healthy, your body is less vulnerable to inflammation, disease and infection.
The lymphatic system relies heavily on the contraction of your muscles and joints to help it operate and move waste. If overwhelmed, the system may not work as well and it may clog up -- leading to diminished immunity, fluid retention, pain and fatty deposits. Symptoms of an impaired lymphatic system include eczema, arthritis, sore throats, sinusitis, swollen glands and chronic ear infections.
A cleansing diet for the lymphatic system is no guarantee of clearing up these ailments, but it may help improve your immunity and an overall feeling of well-being.
Eliminate Processed Foods
Processed foods contribute little nutrition, and they tax your system with their chemicals and preservatives. Many contain heated oils, added sugar and pesticides that stress your internal organs and that force your lymphatic system into overdrive. Your first step in detoxing the lymphatic system is to eliminate all boxed, canned, frozen and fast foods from your daily eating routine. Go for foods that are close to their natural sources, such as fresh fruits and vegetables, bulk whole grains and meats that aren't marinated or pre-cooked. Purge alcohol, nicotine and caffeine as well, as these stimulants put the lymphatic system into overdrive.
Eat More Produce
Eat fresh -- organic if possible -- and eat these fruits and vegetables in abundance. Consume them raw, when possible, which may also help, as you'll take in naturally occurring enzymes that assist in breaking down toxins. The fiber in these foods also cleans you out and helps prevent your digestive system from being overtaxed. Raw vegetables and fruit usually have a high water content, which helps purge your lymphatic system; without adequate hydration, lymphatic flow slows. Cucumbers, lemons and watermelon are examples of hydrating foods. You should also eat immunity-boosting foods -- such as carrots, beets, red peppers, cantaloupe and leafy greens -- at several meals during the day. Season your vegetables with spicy foods, such as cayenne pepper and fresh horseradish, to also boost lymphatic flow.
Moderate Your Grain and Meat Intake
Although fruits and vegetables make up the bulk of your meal plan, you may also include grains in moderation. Aim for whole versions -- skip white rice and pasta, for example. Millet, brown rice, corn and quinoa are options. Stick to modest portions -- and for the duration of your detox, eliminate wheat, which can be a source of intolerance for many people and may impede the lymphatic system's functioning.
Raw, organic nuts and seeds provide amino acids that are essential to tissue growth and repair. They are also a source of quality fats.
Whether or not you choose to eat meat on a detox diet depends on your personal preference. If you do, opt for grass-fed options and aim to consume more in the form of poultry and wild fish. These limit your exposure to antibiotics and chemicals used in mass farming, which also stress your lymphatic system.
Detox Strategy
Start your detox on a weekend or when you have minimal outside obligations. This allows you to lay low and focus on your diet plan. It also reduces your exposure to triggers that may make you stray.
Exercise of all kinds stimulates lymphatic flow, but since you're changing your diet -- expect that you may feel lethargic during the first couple of days. Exercise such as walking, swimming or rebounding, jumping on a mini-trampoline, are all ways to get the system moving. Yoga is another exercise that can help open up your lymphatic system.
See a massage therapist for a lymphatic massage, which stimulates the lymphatic system with light touch and circular movement. Skin brushing at home with a coarse brush stimulates your sweat glands, opens your pores and rids you of dead skin -- while also boosting lymphatic flow.