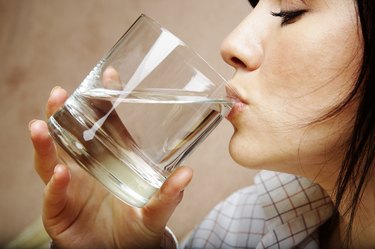 Marketed as a weight-loss supplement, Lipozene is designed to promote decreases in body fat percentage. Lipozene is a rich source of glucomannan, which comes from the Konjac root and has long been used in the treatment of constipation, obesity and other chronic health conditions. To ensure optimal results, follow the dosing instructions. Individuals who notice increases in bloating and flatulence after taking Lipozene may need to decrease their consumption of this product.
Step 1
Time your Lipozene intake. For best results, take one capsule at least half an hour before each planned meal.
Step 2
Drink water while taking Lipozene. The Obesity Research Institute, which markets Lipozene, encourages individuals to drink at least 8 ounces of water with each capsule to prevent choking and gastrointestinal blockage.
Step 3
Slowly increase Lipozene intake. Start by taking just one capsule three times per day with each meal for a week. As your body adjusts, you can begin to take two capsules three times per day, for a total of six daily. If you experience bloating or excessive flatulence after increasing your Lipozene, you may want to taper back down to three capsules per day and slowly build your tolerance. The high amount of fiber in Lipozene is typically responsible for these adverse side effects.
Things You'll Need
Drinking glass

Water

Lipozene capsules
Tip
Consider opening the Lipozene capsules and adding the powder to a glass of water if you experience difficulty with swallowing the product. Stir the water until all powder has been absorbed.
Warning
Talk to your health care provider before using Lipozene to ensure you are healthy enough for the supplement.