Spastic colon, also known as irritable bowel syndrome, is a bowel disorder that causes bouts of frequent diarrhea, constipation or both. Spastic colon causes increased spontaneous contractions of the small and large intestines, causing diarrhea. Alternatively, intestinal muscles may not contract enough, resulting in constipation. The severity of spastic colon differs from person to person. While diet does not cause spastic colon, dietary changes and avoiding problem foods may ease symptoms.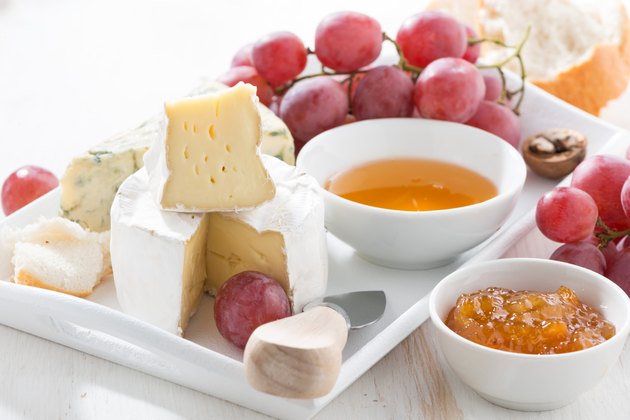 High-Fat Foods
Constipation and diarrhea caused by irritable bowel syndrome may occur in spurts, called flare-ups. During a flare-up, diarrhea may worsen from high-fat foods, states the University of Pittsburgh Medical Center. High-fat foods may trigger intestinal spasms, which can increase diarrhea. If the colon does not absorb enough water while processing fats, intestines may clamp down, causing constipation, states HelpforIBS.com. Avoiding high-fat foods like bacon and mayonnaise may help keep symptoms at bay.
Caffeine and Alcohol
Caffeine may stimulate the bowel, which can make diarrhea worse. Avoid products containing caffeine, such as coffee, tea, chocolate and carbonated sodas. Alcoholic beverages like beer may also stimulate the bowel and increase diarrhea.
Dairy Products
Dairy products may increase diarrhea with spastic colon if your body is unable to process the sugars found in milk and milk products. You may need to limit such dairy products as milk, cheese and ice cream during an irritable bowel flare-up or completely remove them from your diet. Taking lactose supplements to help with the digestion of dairy sugars may be beneficial, suggests UPMC.
Gas-Causing Foods
Foods known for causing intestinal gas, such as spicy foods, may worsen spastic colon symptoms. An increase in intestinal gas may cause abdominal cramping, pain and discomfort whether you have diarrhea or constipation. While high-fiber foods may help alleviate constipation, too much fiber may increase the severity of diarrhea and abdominal discomfort. Avoid foods such as beans and raw vegetables, including broccoli and cauliflower. Garlic and peppers may also increase abdominal symptoms. Cooking vegetables until they are soft may aid in digestion and reduce intestinal gas, states UPMC. Add fibrous foods into your diet gradually during a spastic colon flare-up, suggests MayoClinic.com, and see how your body responds. Adjust your diet by removing high-fiber foods, if needed, until symptoms have passed.
Is This an Emergency?
If you are experiencing serious medical symptoms, seek emergency treatment immediately.