Attention deficit hyperactivity disorder can have a major impact on learning and socialization. Behavioral therapy and medication are the key modes of treatment, but people have been interested in the role of diet in ADHD for years. While there's no solid evidence to support the need for any special diet other than a healthy one, it's also possible that some people may be more sensitive to the intake of specific items than others. Elimination diets are sometimes used to help diagnose and treat food intolerances that could potentially contribute to symptoms associated with ADHD.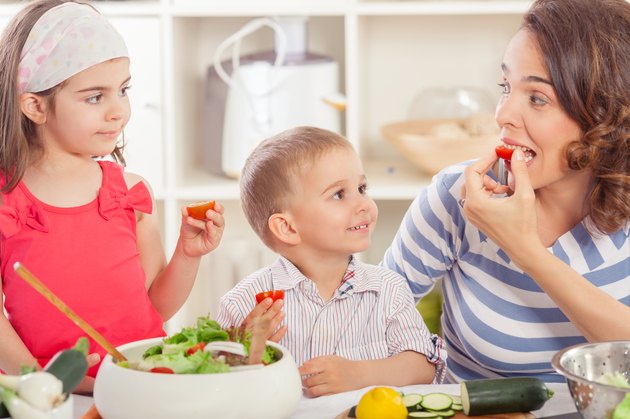 Elimination Diets and Supplements
An elimination diet is based on the theory that certain foods or food additives trigger hallmark symptoms of hyperactivity, inattention, impulsivity or distractibility, and that eliminating those foods helps improve symptoms. While elimination diets are not part of the standard approach to ADHD today, they are still in use. According to the 2009 National Institute for Health and Care Excellence clinical guidelines titled "Attention Deficit Hyperactivity Disorder: Diagnosis and Management of ADHD in Children, Young People and Adults," the data in support of elimination diets are limited. These guidelines also note that supplementation with omega-3 fatty acids has been associated with small benefits in some studies, though other studies showed no improvements. The guidelines don't recommend supplements as a treatment for ADHD.
Recommendations
A healthy and balanced diet is recommended for ADHD -- along with plenty of exercise. If certain foods, including those with colorings and additives, seem to increase the symptoms of inattention, hyperactivity and/or impulsive behavior, try keeping a food diary, and consult your doctor or dietitian about possible dietary triggers. While food intolerances and allergies are not thought to be the cause of ADHD, they may contribute to overlapping symptoms in some people.