Weight loss results can seem as unpredictable as winning the lottery. There are as many so-called experts as there are diets, and wading through their conflicting claims can have you reaching for the chips and ice cream in defeat, especially when so much of what they claim as science sounds so convincing. Monitoring ketone levels, for example, as is suggested in many low-carb and no-carb diet plans, is one suggested claim that will increase your weight loss. Ketones exist, but the claims surrounding their importance are not always accurate. Understanding weight loss basics will help ensure more predictable results, and is not as difficult as you might think.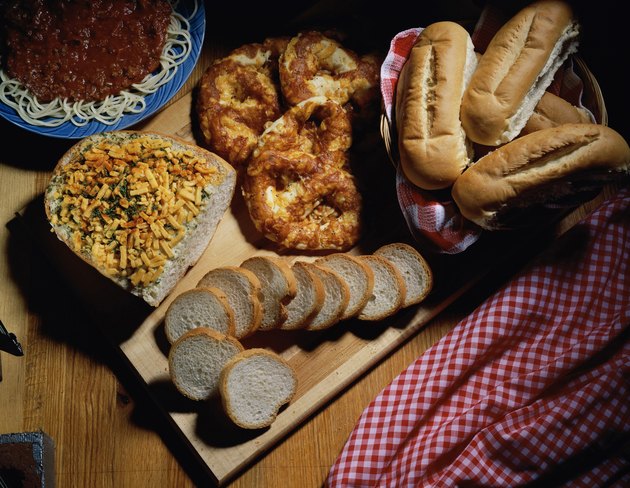 Identification
Ketones are by-products produced when your body breaks down fat and muscle for energy because it is not getting enough insulin. Ketones is the common name for acetoacetic acid and beta-hydroxy-butyric acid, which can be dangerous if they build up in the blood. According to nurse practitioner Nancy J. Morwessel of the Cincinnati Children's Hospital Medical Center, high ketone levels are dangerous for everyone, but especially for people with type 1 diabetes. According to the Milton S. Hershey Medical Center at Pennsylvania State University, a small amount of ketones would be 20 mg/dL, moderate is 30 to 40 mg/dL and high is 80 mg/dL. What this means to you as an individual, and whether your level is safe for you, is something that should be determined by a doctor.
Function
Nurse Morwessel compares ketones to the low-fuel light in your car. They are a signal that you're running out of insulin. High levels in your blood can trigger nausea, vomiting and dizziness. Ketones can also make your body more resistant to insulin, which is necessary to break down sugars for energy. Having a low level of ketones in your blood is meaningless in terms of health, but high levels can be very dangerous.
Theory/Speculation
Proponents of no-carb and low-carb diets believe that the presence of ketones in your blood indicates that you are burning stored fat, and therefore losing excess weight more efficiently. This is true as far as ketones indicating that fat is being burned, but you don't have to be in ketosis to lose weight. You can burn more calories than you take in without depriving your body of the energy it needs to function properly. In order to reach a state of ketosis, you have to starve your body of carbohydrates, which can also lower your levels of potassium and other nutrients. According to Kansas State University's Housing and Dining Services, the best way to lose and maintain weight is to eat a healthy, varied diet and practice moderation in your lifestyle.
Warning
It is never a good idea to tamper with your body's balance. High levels of ketones in your blood can lead to a condition called ketoacidosis, which is a life-threatening medical emergency, according to the experts at University of California – San Francisco's Online Diabetes Education website. The New York Department of health cautions that people with ketones showing up in their urine should not exercise, because this can raise your blood glucose to dangerous levels. People with type 1 diabetes should absolutely avoid a carb-free diet and its attendant rise in ketone levels, and everyone else should integrate fresh fruits and vegetables and whole grains into their diets to provide healthy sources of energy.
Conclusion
There is no "perfect" level of ketones that is right for everyone on a weight loss plan. Rather than monitoring ketone levels, it is important to exercise, stay hydrated and eat a healthy and balanced diet. Avoiding or cutting back on sugary processed foods and empty starches like commercial white bread will help you avoid the insulin spikes that have been recently linked to weight gain, and allow you to design a healthy weight loss plan that won't cause dangerous ketone levels in your blood.