Adenoids are lymph tissues that are located high in the throat behind the nose and soft palate of the mouth. Adenoids are responsible for trapping bacteria and producing antibodies to fight infection. Children may suffer from repeated adenoid infection or obstruction in the nose and mouth from adenoids that are too large, states Akron Children's Hospital. Removing the adenoids, known as an adenoidectomy, may be performed for these reasons. Rest and following a special diet are important for your child's recovery after adenoidectomy.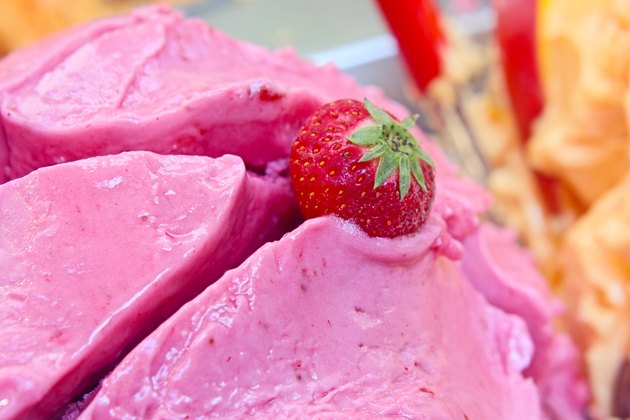 Liquids
When adenoids are surgically removed from the back of the throat, the surgery leaves wounds in the delicate throat tissue. Wound healing occurs faster if throat tissue is disturbed as little as possible. Your child's physician may put him on a liquid diet for the first few days following surgery. Liquids are gentle on throat tissue and allow for less disruption of wound healing. You can begin with clear liquids like broth, water, apple juice or prepared flavored drink mix. Your child may prefer cold or lukewarm liquids; however, avoid very hot liquids. Adenoid surgery may be painful and your child may resist taking anything by mouth in the first days following surgery. Encourage your child to take small, frequent sips of liquids to prevent dehydration. Avoid using a straw as suction from the sucking motion may increase throat pain.
Soft Foods
Your physician may recommend that your child try soft foods as soon as she feels able to tolerate them. Soft foods slip easily through the throat without disrupting healing throat tissue. Your child may prefer pudding, ice cream, cream soups, scrambled eggs, mashed potatoes, cooked cereal, yogurt or apple sauce. Encourage your child to consume a combination of liquids and soft foods.
Foods to Avoid
Some foods may irritate your child's throat or even cause damage to healing throat tissue. Refrain from giving your child foods that are rough, crunchy or hard for 1 to 2 weeks after surgery as these kinds of foods may cause bleeding. Rough foods include popcorn, chips, pretzels, nuts or cold cereal. Spicy and acidic foods, like citrus fruits, tomatoes and peppers, may cause burning and discomfort in the throat and your child should also avoid these during the first two weeks following surgery, or per your physician's recommendations.
Diet Advancement
Two weeks after surgery, your child may feel ready to resume a normal diet. Allow your child to lead the way into a regular diet. Try one new food at a time until your child is able to eat without pain or fear of pain from swallowing. If your child continues to feel discomfort or experiences bleeding when trying to advance his diet, contact your pediatrician for advice and recommendations.