Hematocrit is a type of blood test that determines how many red blood cells there are in your blood and what size they are. Hematocrit is part of a complete blood count, which also includes hemoglobin, white blood cell count and platelet count. Red blood cells are responsible for carrying oxygen to all the tissues in your body. When your hematocrit is low, it means your cells aren't getting enough oxygen; it can leave you feeling weak and fatigued. Talk to your doctor about treatment for low hematocrit and what foods you should add to your diet to help counteract it.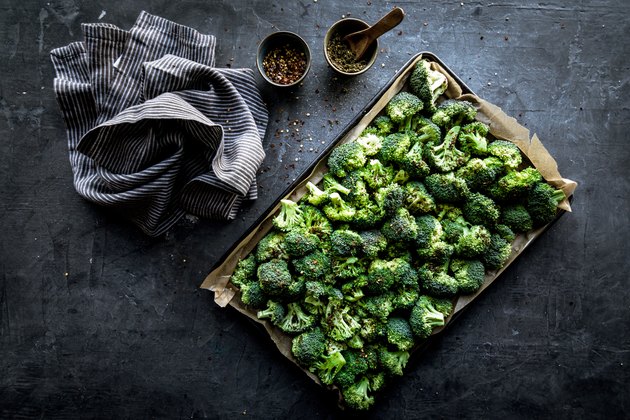 Causes of Low Hematocrit
The most common cause of low hematocrit is anemia caused by either a deficiency in iron or some vitamins, so making some dietary changes can help. A normal hematocrit is 36.1 to 44.3 percent in woman and 40.7 to 50.3 percent in men, according to MedlinePlus. Iron deficiency anemia can occur as the result of heavy blood loss from surgery or heavy menstrual periods, pregnancy, chemotherapy drugs and not having enough iron in your diet. Vitamin deficiency anemia is usually caused by the inability of the body to absorb certain vitamins normally, such as vitamin B-12 and folic acid, during digestion.
Foods Containing Iron and Vitamin C
If you suffer from iron-deficiency anemia, adding foods rich in iron to your diet can be beneficial. Nutritious foods that contain iron include red meats, calves liver, eggs, beet greens, brewer's yeast, blackstrap molasses, raisins, spinach and other dark, leafy green vegetables. Some foods, such as breakfast cereals and breads, are fortified with iron. Vitamin C improves the absorption of iron from the digestive tract; it is found in citrus fruits and juices, broccoli, cauliflower, and tomatoes. MayoClinic.com recommends drinking orange juice or eating foods high in vitamin C along with foods high in iron.
Foods Containing Vitamin B-12
If you have a low hematocrit as a result of a vitamin B-12 deficiency, you will most likely need injections of B-12 and oral B-12 supplements to counteract the deficiency, especially if it's due to pernicious anemia. However, there are some foods you can add to your diet to help things along. Foods that are high in vitamin B-12 include liver, poultry, red meat, tuna, eggs, cheese, milk and yogurt. Breakfast cereals and other packaged foods may also be fortified with vitamin B-12.
Foods Containing Folate
Absorption problems in the digestive system from general aging or alcoholism can lead to megaloblastic anemia caused by folic acid deficiency. Folate, a B vitamin, is needed for normal red blood cell production. Folate is found in foods such as asparagus, orange juice, tomato juice, broccoli, spinach, okra, chickpeas, whole grains, fortified foods and black-eyed peas. Folic acid is the synthetic form of this vitamin. The University of Maryland Medical Center notes that if your doctor recommends that you also need to take folic acid supplements, you should also take vitamin B-12 supplements, as folic acid can mask a B-12 deficiency.