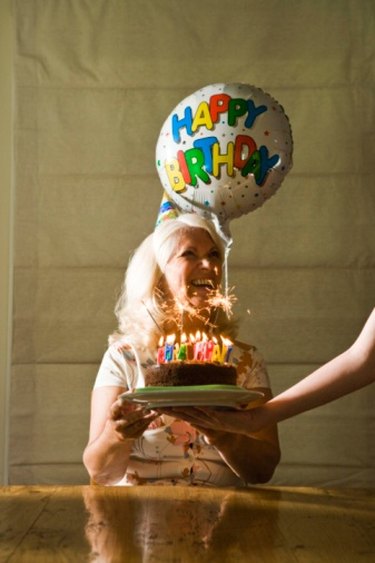 Sweet foods, such as cakes and desserts, often contain large amounts of sugar and carbohydrates. While too many sweets are unhealthy for most people, individuals with diabetes must be extra cautious about their overall carbohydrate intake. Using sugar-free ingredients allows you to bake a cake that everyone can eat, including diabetics.
Step 1
Preheat your oven to 350 degrees Fahrenheit. Place an oven rack in the center of your oven to ensure even heat when baking the cake. Spray nonstick cooking spray into a small baking pan that measures 8 inches square by 2 inches deep. For a double-layer birthday cake, prepare two cake pans and double the basic recipe.
Step 2
Mix 1 egg, 2 tbsp. low-fat milk, 3 tbsp. softened margarine and 3/4 cup granulated sugar substitute, such as the herbal sweetener stevia. In a separate bowl, blend together 1 cup all-purpose flour and 1/4 tsp. salt. Slowly add the dry ingredients to the egg mixture. Beat the ingredients until smooth.
Step 3
Add 1 to 2 tsp. of sugar-free decorative sprinkles to add a festive flair to the birthday cake. Otherwise, sprinkle in 1/4 cup of sugar-free baking bits in flavors like cherry, chocolate or peanut butter. For a fruit-type cake, use 2 cups sliced apples lightly sprinkled with nutmeg and cinnamon. Use a wooden spoon to turn the additives gently into the prepared cake batter.
Step 4
Scoop the cake batter into the prepared pan. Lightly tap the bottom of the pan on a countertop to spread the batter evenly and release large air bubbles. Place the pan in the preheated oven and set your timer for 40 minutes. This simple sugar-free birthday cake takes about 40 to 45 minutes to bake. Check for doneness by inserting a wooden toothpick in the center of the cake. A clean toothpick signals the correct time to remove the cake from the oven.
Step 5
Let the cake cool completely on an elevated baker's rack. Place candles on the cooled cake or dress it up with a drizzle of sugar-free chocolate syrup and a pinch of sugar-free decorative sprinkles.
Things You'll Need
Baking pan

Nonstick cooking spray

1 egg

2 tbsp. low-fat milk

3 tbsp. margarine

3/4 cup granulated sugar substitute

1 cup flour

1/4 tsp. salt

Kitchen mixer

Sugar-free sprinkles, baking bits or fruit and seasonings

Candles

Sugar-free chocolate syrup
Tip
Calculate the calorie and carbohydrate exchanges to ensure the diabetic diet for the entire meal -- not just the cake -- stays within the suitable range. A single serving that consists of 1/12 of the cake contains less than 25 g of carbohydrates and less than 136 calories.