Pregnancy requires that you eat a well-balanced diet that provides all of the vitamins and minerals you and your growing baby need for good health. Greek yogurt is a nutritious addition to your pregnancy diet that supplies many of the nutrients you need on a daily basis. Learning more about the benefits may prompt you to head to the supermarket and stock up on this nutritious food.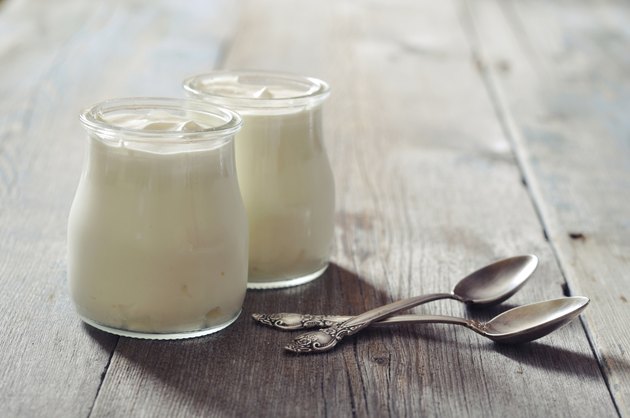 Vitamins
While Greek yogurt does not supply large amounts of any vitamins, it does supply small amounts that can help you supplement what you need for a healthy pregnancy. Greek yogurt provides about 2 percent of your daily requirement of vitamin A, a nutrient essential for the health of your growing baby's eyes. Some brands of Greek yogurt, such as Chobani, also provide about 2 percent of your daily vitamin C and iron needs.
Calcium
Calcium -- a mineral you need plenty of during pregnancy -- has a notable presence in a serving of Greek yogurt. BabyCenter notes that if you do not consume enough calcium from your diet, your baby will leach what it needs from your own stores, which can leave you deficient. A 7-oz. serving of plain-flavored Greek yogurt supplies 20 percent of your daily calcium needs. Fruit flavors provide about 10 percent of the calcium you need each day. Greek yogurt also contains a small amount of sodium, which you should limit in your pregnancy diet to help prevent high blood pressure and bloating.
Benefits for Pregnancy
Greek yogurt offers additional benefits that reach beyond vitamins and minerals. It has about twice as much protein as regular varieties of yogurt. Protein is crucial during pregnancy, because it supports the development of your baby but also supplies you with the energy you need to grow a healthy human being. A 7-oz. carton of plain Greek yogurt has about 20 g of protein, while flavored varieties contain about 12 g. Another advantage is that Greek yogurt contains less sugar than regular yogurt.
Suggested Recipes
Spoon plain yogurt into a small bowl and top with a squirt of honey and a handful of sliced almonds or chopped walnuts. Add 1/4 cup of plain Greek yogurt to a fruit smoothie or freeze and enjoy with fresh fruit in place of ice cream or other sugary desserts. Make a healthy dip for vegetables by combining plain Greek yogurt with fresh dill and garlic powder. Spread Greek yogurt on a bagel in place of cream cheese. Each of these suggestions will add some of the protein, vitamins and minerals that both you and your unborn baby need.