Fresh fruit juice is a healthy treat packed full of healthy vitamins and minerals. As long as it's low in sugar and not filled with unhealthy fillers, juice can be a beneficial addition to any healthy diet. But when it's the only thing you consume for several days or weeks, it's no longer just a diet addition – it's now a juice fast. After fasting on juice, your body becomes less able to process solid foods. And indulging on pizza after such a fast can leave your digestive system reeling with discomfort.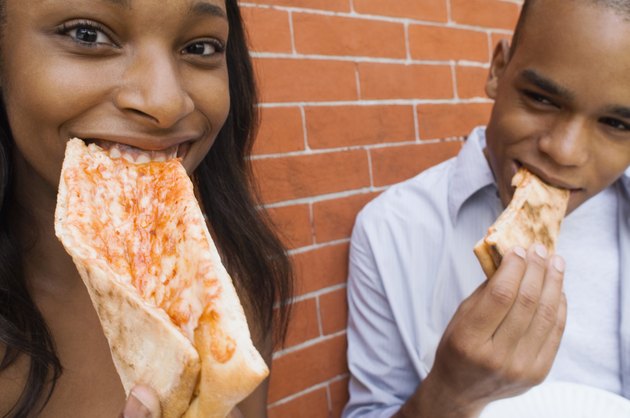 Fasting
During a juice fast, you will likely take in only juice and water. The length of the fast depends on your personal preferences and/or the specific plan you are following. During the fast, your body goes through a variety of changes as it adapts to your new diet. After fasting for several days, your stomach and intestines become unable to process food as efficiently as they are used to.
Eating After a Fast
Since your body is no longer used to solid foods, the first few meals after a juice fast could cause serious discomfort. According to the JuiceFasting.org website, the first meal after a fast dislodges sticky lining of toxic mucus from the intestinal wall. Once this happens, a bowel movement happens almost instantaneously. In many cases, you will experience diarrhea every time you eat for several days after a fast. To minimize your discomfort, eating fruits and vegetables for several days can help ease you back into eating solid foods. As your body adjusts to the solid foods, you can slowly add others foods back into your diet. However, keep in mind that certain foods – such as greasy, fried or fatty foods – will still be quite difficult to digest.
Healthier Pizza Options
Typically, pizza is smothered in a thick layer of tomato sauce, meat and cheese. High in calories, fat, sodium and cholesterol, that delicious pizza can wreak havoc on a digestive system that hasn't dealt with solid food in several days or weeks. If you must eat pizza, opt for healthier options to avoid digestive discomfort. Ideas include a whole wheat crust with just a thin layer of mild marinara sauce and parmesan cheese. Fresh vegetables, such as broccoli, bell peppers and olives, can add an extra bit of nutrition and fiber that might make digestion a bit easier.
Considerations
To ensure your health and safety, consult your physician before starting a juice fast. Although many people rely on fasts to detoxify the body and initiate weight loss, they can be quite dangerous. A short-term fast over just a few days might result in dehydration, fatigue, muscle weakness and headaches. A long-term fast, however, can result in serious malnutrition, muscle breakdown and a weakened immune system. So before you start gulping down multiple glasses of juice and denying yourself all solid foods, consult your physician for some healthy guidelines.