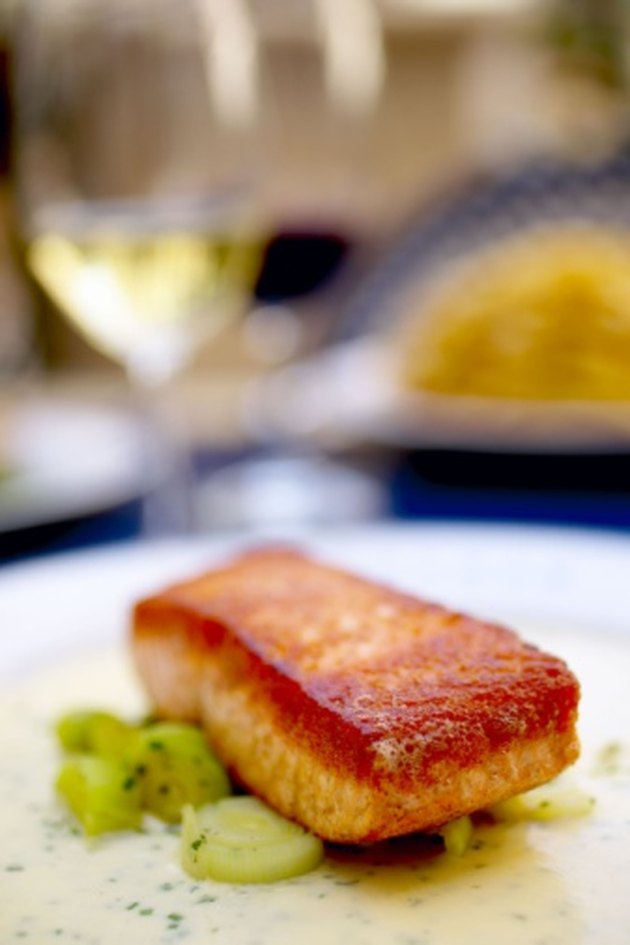 Salmon is rich is omega-3 fatty acids. This makes it a heart-healthy food. Eating just one or two servings of fish such as salmon each week will reduce your risk of heart disease. Salmon also offers the advantage of being versatile. When it comes to cooking, you can pan-fry, grill or bake the fillet. By adding herbs and a salsa, you create a Mexican-style salmon dish that tastes yummy and is good for you.
Seasoning the Salmon
Step 1
Rinse the salmon fillets under running water, and pat them dry with a clean towel. Place the salmon on a plate with the skin side down.
Step 2
Mix 1 cup each of dried oregano, dried basil and dried parsley into a bowl.
Step 3
Cover each salmon piece with ½ tsp. lime juice, and then pat the dry herb mixture over the top of the salmon. Only season the side without the skin.
Salsa
Step 1
Add 1 tsp. ground chili powder, 1 can chipotle chile in adobo sauce and 1 clove chopped garlic into a blender. Turn the blender on to mix the ingredients.
Step 2
Take the lid off the blender and turn it onto the slowest setting. Pour 1¼ cup olive oil slowly into the container. As the salsa mixes, it should become thick and develop a creamy texture.
Step 3
Transfer the salsa to a bowl.
Pan-Fry
Step 1
Pour ½ cup olive oil into a skillet. Turn the burner to medium and heat the oil in the pan.
Step 2
Place the fillets into the skillet with the skin facing up. Cook the fish 5 minutes on each side. The outside of the salmon should be light pink when done.
Step 3
Transfer the salmon fillets to dinner plates and spoon on 1 tsp. salsa.
Bake
Step 1
Preheat the oven to 375 degrees Fahrenheit.
Step 2
Place the fillets in a baking dish with the skin side facing upward. Brush the skin with a light coat of olive oil.
Step 3
Bake the salmon for 25 minutes, or until the outside is light pink. Transfer each fillet to a dinner plate and top with salsa.
Grill
Step 1
Preheat the grill to medium. Spray the rack with vegetable oil to prevent sticking.
Step 2
Place the fillets on the rack skin side down. Grill them for 5 minutes and then flip the salmon over and cook for an additional 4 minutes.
Step 3
Take the salmon fillets off the grill and place them on dinner plates. Top each piece with salsa and then serve.
Things You'll Need
6 salmon fillets

1 cup dried oregano

1 cup dried basil

1 cup dried parsley

3 tsp. lime juice

1 tsp. chili powder

1 can chipotle chile in adobo sauce

1 clove chopped garlic

1¾ cup olive oil

Spray-on vegetable oil
Tip
Leave the leftover salsa in a serving dish for guests who want to add more to their fish.