Fats are important building blocks in the production of hormones. A large portion of hormones are composed of amino acids, fats and cholesterol. Any decrease in the level of important fats can have a negative effect on hormonal levels in the body. Many fats are readily available in a traditional diet. However, some types, like essential fats, can be only found in specific food sources. Fish oil supplements, for example, are excellent sources of omega-3, an essential fatty acid. Before attempting to alter your testosterone levels with fish oil, consult with your physician.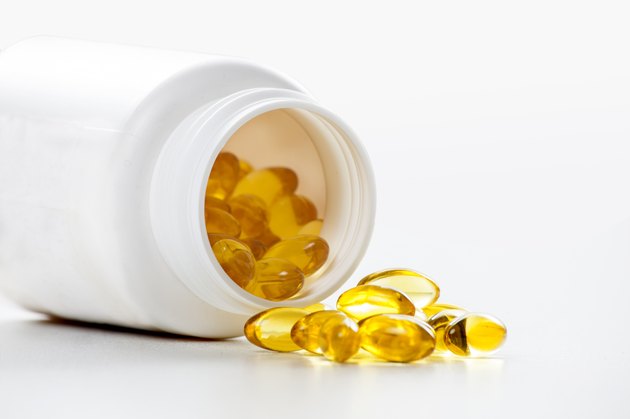 Fish Oil
Omega-3 is a polyunsaturated fat that is classified as "good fat." Unlike other types of fat, fish oils don't elevate blood pressure or clog your blood vessels. In fact, they do exactly the opposite and clear the body of high cholesterol and bad fat. Omega-3 in fish oil is an important component for the production of hormones. It is also excellent for keeping your cardiovascular system and heart healthy.
Testosterone
Testosterone is a major male sex hormone that determines many male sexual characteristics but can also be found in small amounts in females. This hormone is responsible for secondary male characteristics such as muscle mass, hair growth and the development of a lower voice. This male hormone is important for regulating metabolism, increasing the rate of fat breakdown in men. It also helps in sperm maturity and contributes to sex drive in both men and women.
Testosterone and Aging
Aging causes many changes in the body, including the steady decline of testosterone levels. The levels of testosterone in your body start to gradually decrease when you reach 30 years of age. Early signs of declining testosterone levels include poor libido, weight gain and loss of bone density. Since testosterone is an important hormone, a decrease in its levels exerts a significant negative effect on your body. According to The Patient Education Center, low testosterone can cause depression, impaired mental function and loss of muscle mass, among other things.
Sources of Omega-3
Fish oil is one of the best sources for omega-3. Rich sources of this essential fatty acid includes cold water oily fish such as mackerel, anchovies, sardines, salmon and herring. Omega-3 is not synthesized by the fish itself, but is taken from the algae or plankton in its diet. Omega-3 may also be obtained from other sources including flaxseed oil, walnuts, mussels, sunflower seeds and olive oil. You may also purchase a high-quality omega-3 supplement, but choose one that is pharmaceutical grade and produced by a reputable manufacturer.