People who have difficulty getting enough fiber though food may rely on a supplement to ensure they get enough. Metamucil is one brand of fiber supplements that is widely available in drugstores and supermarkets. Although it is best to get fiber though food, no scientific evidence is available to suggest that taking a Metamucil fiber supplement every day is harmful. Always talk to your doctor if you have specific questions or concerns about taking this product.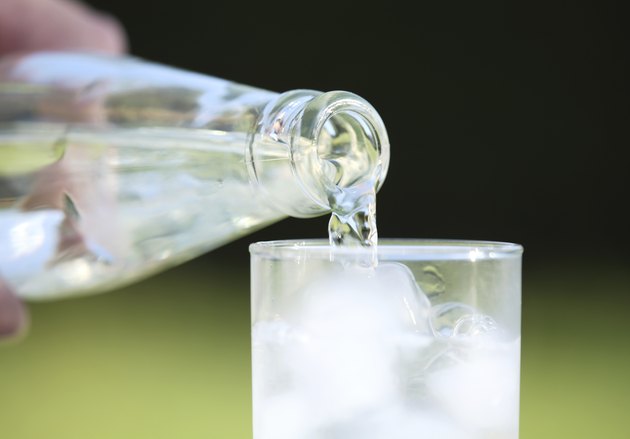 Benefits of Fiber
Getting enough fiber can have many benefits, including treating constipation, diarrhea, high cholesterol, hemorrhoids, diabetes and heart disease. It also may prevent cancer and lower the risk of heart disease, although more studies need to be done to confirm this. Some people may also feel fuller when they get enough fiber and be less likely to overeat, which may help with weight loss.
Fiber Recommendations
The specific amount of fiber you need depends on a variety of factors, including your age, weight, height, activity level and lifestyle. Generally speaking, most people should aim for about 25 to 30 g of fiber each day. Unfortunately, most people in the United States only consume about 5 to 10 g of fiber a day, according to the UWSP University Health Service.
Food Vs. Metamucil
While it is safe to take Metamucil every day, it is better to get your fiber through food when possible. Concentrate on eating foods that are naturally high in fiber. This includes whole wheat products, nuts, beans, lentils, fruits and vegetables. If you are unable to meet your fiber needs through food, Metamucil supplements may prove beneficial.
Fiber in Metamucil
Metamucil products typically contain 2 g of soluble fiber and 3 g of dietary fiber in each serving. One exception to this is the wafer snacks, which contain 3 g of soluble fiber and 5 g of dietary fiber. You can typically take Metamucil products several times a day, which means the amount of fiber you consume from these products can quickly add up.
Considerations
Keep in mind that Metamucil products don't just contain fiber. Many contain small amounts of iron, protein, potassium, and one product is a good source of calcium. The supplements may help you meet both fiber recommendations and your recommended allowances for these nutrients. However, most Metamucil products contain calories, carbohydrates and sugar, and some even contain saturated fat. Always check the nutrition label of your Metamucil product if you'd like to keep track of all the calories and other nutrients you consume.
Warnings
Although Metamucil is typically safe for people to take every day, there are a few exceptions. Talk to a doctor before taking Metamucil on a regular basis if you have intestinal problems or regularly take any medications. Metamucil products may cause problems with the way the body absorbs certain medications, may reduce blood sugar levels and may cause gas or bloating. If you experience difficulty breathing, nausea, vomiting, trouble swallowing, stomach pain, itching, a skin rash or chest pain after taking Metamucil, call a doctor immediately.