Low in fat and calories, tilapia is an entrée that health-conscious cooks will enjoy. With several simple cooking methods, you can quickly prepare and serve tilapia to family and last-minute guests. The flexibility to add fresh herbs and seasonings to each person's meal ensures that guests will have a personalized dish specifically made to suit their palate.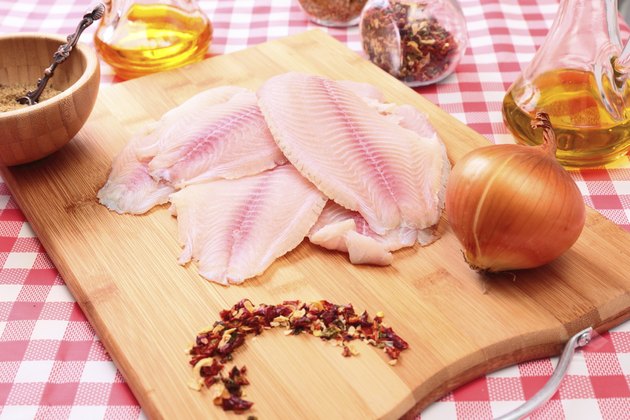 Poaching
This process involves cooking fish in a bath of flavorful liquid. Poaching tilapia is an easy way to infuse flavor into the fish, without adding butter or oil. To poach tilapia, place the fish into a white wine mixture and season with fresh herbs if desired. Add more variety by poaching your fish in no-sodium broth or in a mixture of lemon slices and water. Bring the wine to a boil, then reduce the heat and cook the tilapia for 10 to 15 minutes. The fish is completely cooked when it is firm to the touch.
Grilling
Grilling is a healthful way to cook tilapia without adding excess fat or calories. To grill tilapia, turn on the gas grill or light the charcoal grill. Brush each piece of tilapia lightly with olive oil and citrus juice or the marinade of your choice. Brush the grill grates with olive oil and place the fish on the grill over indirect heat. The middle of the grill is the hottest and may burn your fish before it's cooked throughout. Cook the tilapia until you begin to see slight grill marks forming. Flip the fillet and continue cooking until the tilapia is completely cooked.
Steaming
In this method, the steam from the pan cooks the tilapia quickly, leaving the filet moist and tender. It also doesn't require adding oil during the cooking process, so you'll end up with a low-fat meal. To steam tilapia, first rub the tilipia with a combination of fresh herbs, garlic and ginger. Place the filets into the bottom of a steamer basket. Fill a medium-size saucepan with 1 inch of water and bring the water to a boil on the stove. Place the steamer the pan of boiling water and cook the fish covered, for 10 to 15 minutes. When cooked completely, the filet will flake easily with a fork.
Broiling
Broiling is a way to obtain the flavor of grilling without the hassle of heating a grill and, like grilling, it doesn't require that you add fat during the cooking process. To broil tilapia, first marinate the tilapia with olive oil, lemon juice, and spices. Place a large piece of aluminum foil over the broiler pan and turn the broiler on. Place the tilapia on the broiler pan and cook the filet for four to five minutes. Flip the fish once and cook for an additional five minutes until filet is cooked throughout.