The World Health Organization recommends pregnant women take a daily iron supplement to reduce the risk of iron deficiency, anemia and low-birth weight. Even during pregnancy, though, you can have too much of a good thing. Too much iron may have a negative effect on your body and put your unborn baby at risk. Always speak with your doctor before taking any supplements and seek regular prenatal care so your iron levels can be checked.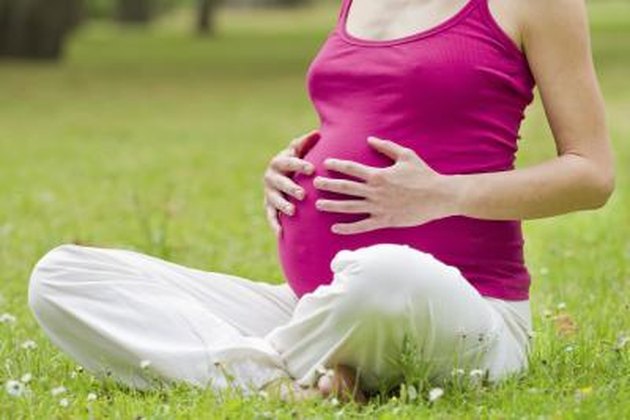 Iron in the Body
Iron is a necessary component of hundreds of proteins and enzymes in your body. About two-thirds of your body's iron is found in hemoglobin, which transports and stores oxygen. Iron is also needed for growth, reproduction, wound healing and immunity. Your body is excellent at absorbing and storing iron based on how much you need. It's near impossible to overload on iron through natural foods, but if you or your baby take an iron supplement when you are not deficient, you may develop iron levels that are too high.
Gestational Diabetes
Too much iron in your body may interfere with your ability to secrete insulin, putting you at risk for gestational diabetes. A study published in 2013 in "Diabetes Care" examined over 1,400 pregnant women. Those with the highest iron levels at the beginning of pregnancy had an increased risk of developing gestational diabetes, but obesity was also a factor. A study published in "Diabetic Medicine" in 2001 showed increased iron stores lead to glucose intolerance during the third trimester. Gestational diabetes puts you at risk for high blood pressure, and your baby at risk for low calcium levels, jaundice, low blood sugar, breathing problems and extra fat stores, which can lead to obesity later in life.
Infant Risk
From birth to six months, breast-fed infants easily absorb iron through breast milk. If you give your baby formula, opt for an iron-fortified formula. Infants 7 to 11 months old need 11 milligrams of iron daily. Once on solid foods, feed your baby iron-fortified cereal. The University of Maryland Medical Center recommends never giving an iron supplement to children under 18 unless you've consulted with your pediatrician. Iron supplements may cause stomach discomfort, nausea, vomiting, diarrhea or constipation.
Recommended Dietary Allowance
If you're pregnant, the recommended dietary allowance of iron is 27 milligrams -- well above the RDA for women, which is set at 18 milligrams. You most easily absorb iron found in lean meats, poultry and shellfish. You also get iron from dried beans, legumes, nuts, seeds, whole-grains and dark green vegetables.