When you head to the gym from work you'll want to keep your personal items safe and secure. The last thing you want is to find your stuff confiscated from an unlocked gym locker, or removed and left on a nearby bench by someone who wants to lock their stuff up. Some gyms provide lockers with pre-installed locks and others require you to bring your own lock. There are a few different locks to choose from.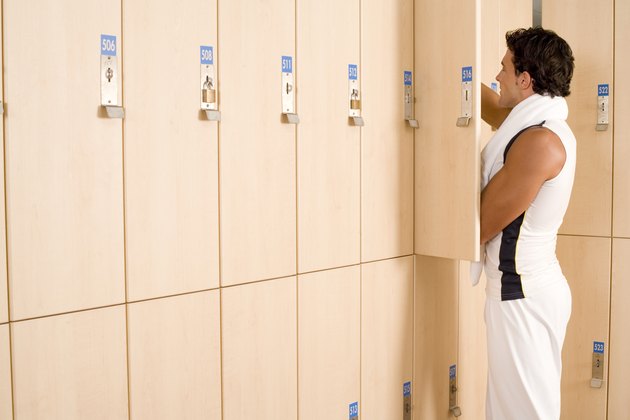 Combination Dial
A combination dial lock features a stainless steel body with a numerical dial that spins as you input your combination code. The combination code is provided by the combination lock manufacturer. Either remember the combination or place it somewhere that's easily accessible should you forget it. Some companies also make resettable combination locks, where the user can decide which letters or numbers to use.
Alpha-Numeric Lock
An alpha-numerical lock features a stainless steel body and four dials that feature both letters and numbers on each dial. This lock does come with a preset combination yet the user can also pick their own combination. Once its unlocked, the owner can remove the end cap and replace the alpha-numeric wheels in whatever order they like. Then, put the end cap back on and shut the lock. Most alpha-numeric locks come with an extra set of wheels to help create endless combinations. Scramble the wheels so you don't give your combination away.
Key Padlock
If memorizing combinations is not your thing, then consider a key padlock. Padlocks feature a stainless steel body as well as a dual ball-bearing locking mechanism to further protect against prying or break ins. Padlocks come in a wide variety of shapes and sizes and come with a key. Some padlocks may come with an extra key. Place the key someplace safe while you work out, like in your shoe.
Speed Dial Lock
If memorizing numbers or holding onto a key is not your thing, then consider a speed dial lock. As its name implies, a speed dial lock is faster to open than traditional dial locks. A speed dial lock features a stainless steel body yet, instead of a number dial or keyhole, it features a joystick-like device that moves left, right, up and down. The lock can be reset to as many movements as you like. If you prefer the look of a traditional lock, the speed dial lock also comes with adhesive numbers, letters, shapes, symbols and colors that can be placed on top of the directional arrows of the lock.