When it's cold outside, a warm cup of something cozy is delightful, but all the added sugar from your favorite holiday drinks can lead to holiday weight gain as well as longterm health problems like diabetes. Added sugar isn't the devil, but should be used judiciously where it counts most and ideally not consumed every day. Unfortunately, America's most popular chain restaurants and cafes make it all too easy to mindlessly guzzle tons of sugar in holiday-beverage form.
The daily recommended max on added sugar, according to the American Heart Association, is 6 teaspoons for women (25 grams, 100 calories) and 9 for men (36 grams, 150 calories). Keep reading for an honest look at how much sugar, fat and calories your favorite holiday drinks are packing, along with LIVESTRONG-created healthier holiday drink recipe alternatives that will leave you feeling warm and cozy this winter.
1. Hot Cocoa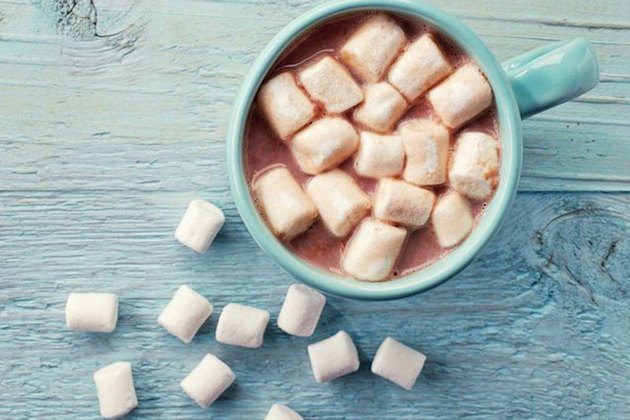 Hot chocolate on a cold day is one of life's greatest pleasures. But if you happen to indulge in a hot cocoa from the Cheesecake Factory, just know that this "treat" contains 53 grams of sugar, or more than double the day's recommended limit for added sugar for women, not to mention a full meal's worth of calories (780 calories).
Getting your cocoa fix at Starbucks is only slightly less offensive, considering a Grande Starbucks Hot Chocolate contains 43 grams of sugar and 480 calories. Somehow, McDonald's crams 58 grams of sugar — more than Cheesecake Factory or Starbucks — into their 450-calorie hot cocoa.
For a healthier version of hot cocoa, try this recipe from nutrition expert Cynthia Sass, MPH, MA RD, CSSD. It's made with almond milk, sweetened with a bit of honey and has 16 grams of sugar per serving.