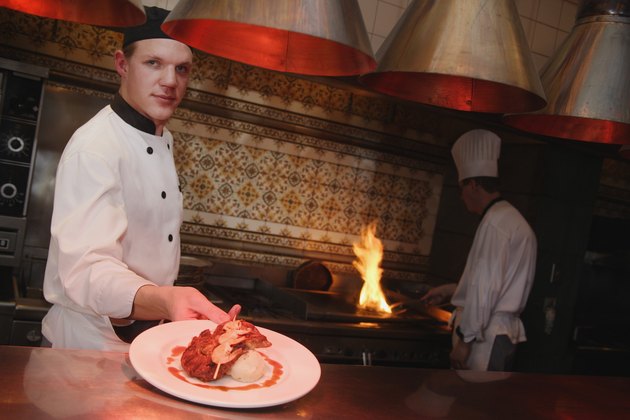 Ruth's Chris Steakhouse is a national restaurant chain in the United States. Its menu includes a wide variety of protein-heavy main dishes that fit well in the low-carbohydrate diet. It also offers low-fat main dishes and side items to appease those who are trying to eat a more heart-healthy diet.
Low-Carb Main Entrees
If you are following a low-carb diet, you will have no problem finding a main entree at Ruth's Chris, because almost all of the steaks, chicken and seafood are under 10 grams of carbohydrate per serving. The petite and regular fillets have only 1 gram of carbohydrate per serving, and the cowboy ribeye steak has 3 grams of carbohydrate. The lunch-sized serving of New York strip steak has 4 grams, and the veal chop has 6 grams.
Low-Carb Vegetables
If you are following a low-carb diet, most vegetables are a good side item choice because they are lower in starch and carbs than such sides items as potatoes, bread and pasta. A half-serving of Ruth's Chris spinach contains 6 grams of carbohydrate, and the same serving size of asparagus in hollandaise sauce has only 4 grams.
Low-Fat Main Dishes
Most Ruth's Chris steaks are high in saturated fat simply due to their marbling, and this makes them inappropriate for a low-fat diet. However, there are other options for those following a heart-healthy diet. For example, the lobster tail is an excellent choice, given that it has only 130 calories and 4 grams of fat per serving.
High-Protein Main Dishes
If you are eating at Ruth's Chris, you will definitely be meeting your protein requirements for the day. One petite fillet contains a whopping 40 grams of protein, which almost meets the minimum daily protein requirements for a healthy adult woman. For one lobster tail, you will get about 24 grams of protein.
Desserts
While they may not fit into the low-carb or low-fat diet plan, Ruth's Chris does offer a variety of desserts to polish off your dining experience. Just know that these desserts are not low in calories. For instance, one serving of their creme brulee contains 45 grams of fat, 58 grams of carbohydrates and 680 calories. For most individuals, this meets the number of calories and carbohydrate needed for an entire meal and the amount of fat needed for an entire day.