Heart attacks are the leading cause of death in women older than 65. Heart attacks have a specific and documented set of symptoms. However, while these symptoms are well-documented and easily recognized, these were first documented in men. There was a time when heart attacks in women were relatively rare, but now, women account for nearly half of all heart attack deaths. According to a study published in 2011 by "Aging and Disease," more than 50 percent of people older than 60 have significant coronary artery disease, contributing to risk of heart attack. Heart attacks in women can be difficult to diagnose because many women do not believe they are having a heart attack and don't experience the same symptoms as their male counterparts.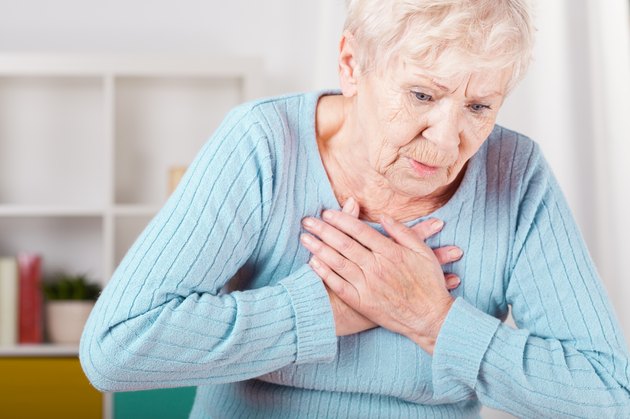 Chest and Arm Pain
Chest pain is a common symptom in men, but women may not experience chest pain at all. Women are more likely to have heart attack symptoms without chest pain. Women can experience pain in other parts of the torso, such as the back and abdomen, and confuse the pain for heartburn. A heart attack might also be present as pain, originating the chest and radiating down the left arm. Women might also experience pain in both arms, and that pain could radiate up into both sides of the neck and the jaw.
Female-Specific Symptoms
Women are more likely to experience the other symptoms of a heart attack instead of chest pain. Many women confuse these symptoms for something else because they are less likely to expect a heart attack. Women might experience nausea and vomiting as well as dizziness, light headedness and fatigue—all of which could be confused for the flu or another illness. A woman might also experience cold sweats, anxiety and shortness of breath, and she may confuse them with symptoms of hormonal changes.
Dizziness and Nausea
Most heart attacks present subtle symptoms that may come and go. The best defense against a heart attack is recognizing your own risk and making yourself aware of how the symptoms are present in women. Women who are older 50 and smoke are at higher risk -- as are women with diabetes, hypertension and high cholesterol. If you suspect that you are having a heart attack, do not ignore or downplay your symptoms. Seek help immediately.